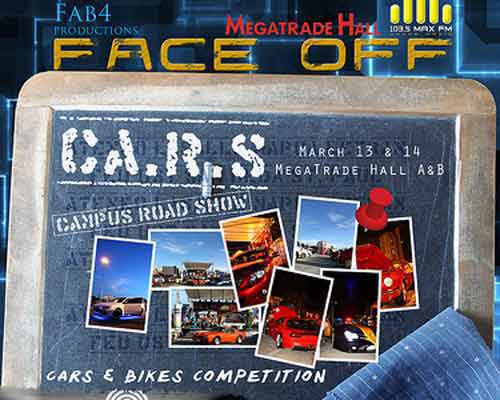 University battles go beyond academics and athletics when Face Off Campus Road Show (CA.R.S.) kicks off at the Megatrade Hall in SM Megamall on March 13.
 
Expect university fanatics to tough it out as Face Off CA.R.S. give awards like the Best University Car from either an alumni or a current student, and Best University Car Club. Over 30 awards are at stake during the show's two-day run.

Tagged as the first and biggest university car event of the year, Face Off CA.R.S. is expected to have over 70 cars and 70 more motorcycles in the show, either as exhibitors or as competitors.

Besides the staple Best of Show awards for cars and motorcycles, other plumes up grabs include Best in Paint, Best in Interior, Best in Bodykits and Best Engine Display. To make the competition even more fierce, a roundtrip ticket to Malaysia as well as tickets to the 2010 Super GT Championship in Malaysia and a four-day/three-night accommodation will be given to the Best of Show winners.

Face Off CA.R.S. will also hold trainings and seminars on car modification conducted by industry experts. There will also be new cars on display from the country's major car brands, a live Formula One viewing party as the 2010 season kicks off in Bahrain, and live performances from up-and-coming bands.

Continue reading below ↓
Recommended Videos