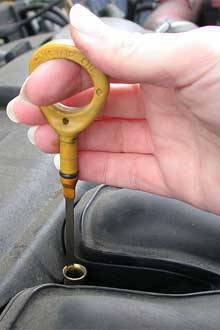 Female motorists are less likely to do basic car maintenance, a survey conducted in the United Kingdom showed.
Online used car retailer Autoquake.com said its study showed 12 percent of female drivers never check their car's oil level while only eight percent of men admitted to the same neglect.
The same study showed as much as 43 percent of women do not check the pressure of their spare tire, and 18 percent fail to check on their tire's tread depth.
On the other hand, 37 percent of men also said they never check their spare tire's pressure and 13 percent do not check tire treads.
"We're surprised to see such differences between the sexes," said Autoquake.com chief executive Dermot Halpin. "Pumping up your tires or checking the oil level doesn't require any special mechanical knowledge or muscle power, yet women drivers in particular are neglecting these basic important checks."
How about you, our dear reader? How often do you check your engine oil and your tires...and do you actually do these on your own?
Photo from Commons.Wikimedia.org