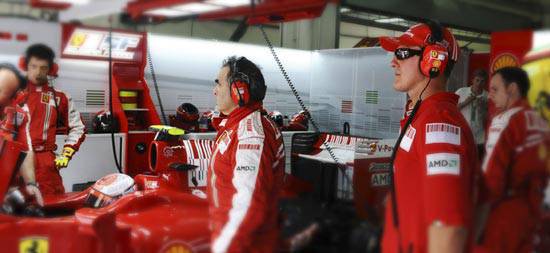 Ferrari wants to put seven-time Formula 1 world champion Michael Schumacher on the F60 racecar while injured Felipe Massa recuperates.
"Michael Schumacher said he is ready and, over the next few days, will undertake a specific training programme at the end of which confirmation will be given of his participation in the Championship with effect from the European Grand Prix on the 23rd of August,"
Ferrari said in a statement
.
Ferrari team principal Stefano Domenicali and Ferrari chairman Luca di Montezemolo met up with Schumacher four days after Massa sustained a head injury during the qualifying round of the Hungarian Grand Prix.
"We decided that I will prepare myself to take the place of Felipe," Schumacher said in a statement on
his website
.
Schumacher serve as an adviser for Ferrari's F1 program since his retirement from competitive racing in 2006. He is reported to still train vigorously everyday, but Schumacher is already 40 years old and it is uncertain if he can handle the strain of driving an F1 car following a neck injury he sustained in a motorcycle accident last February.
"Though it is true that the Formula 1 chapter has been completely closed for me for a long time, it is also true that for reasons of loyalty to the team I cannot ignore this unfortunate situation. But as the competitor I am, I also very much look forward to facing this," Schumacher said.
The last time Schumacher got into an F1 racecar was in April 2008 when he tested Ferrari's season contender.
Despite his long break from competitions, many F1 followers still believe Schumacher's racing skills.
Prior to Ferrari's announcement, an informal poll conducted on
TopGear.com.ph
showed 59 percent the site visitors said Schumacher is the best driver to take Massa's seat, followed by 15 percent who voted for rumored incoming Ferrari driver Fernando Alonso and another 15 percent for Ferrari test driver Marc Gene, seven percent for former Red Bull Racing driver Sebastien Bourdais, and four percent for Williams test driver Nico Hülkenberg.
Continue reading below ↓
Recommended Videos