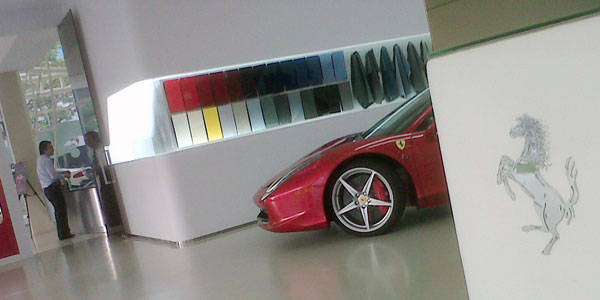 We reported here how Lamborghini Manila doesn't allow walk-in admirers of the Italian supercar brand, and that the only way you can set foot inside its showroom is if you have an official appointment. In other words, you may only check out the Aventador from outside the dealership's tinted glass panels. While this seems to be a haughty policy, we can't really blame them. We'd probably do the same if we were peddling a P42-million supercar.
Not so Autostrada Motore, the official distributor of Ferrari in the Philippines. During a recent visit to the showroom--located next to the Jaguar/Land Rover store also in Bonifacio Global City--we personally witnessed for ourselves how a family crossed the street from a nearby Chatime outlet and went inside the Ferrari showroom unrestrained. In fact, Autostrada's big boss himself, Marc Soong, spent time to chat with the husband. And we know Marc wasn't merely showing off to us because he wasn't aware we were observing him from another part of the showroom (where we were conducting a photo shoot).
When we asked him if they really allow walk-in visitors inside--including those who can't afford a Ferrari--Marc answered in the affirmative. "Everyone is welcome here," he said. "I even encourage visitors to take photos of the cars. I notice that some of them tend to be shy about taking photos of the cars, so I tell them: 'It's okay. Take photos. I'm a Ferrari fan myself and I would also take photos if I were in your place'."
Continue reading below ↓
Recommended Videos
So, if you want to see an exotic Italian supercar in the metal, you know where to go. The showroom is scheduled to formally inaugurate on March 8, but you may already drop by and check out the 458 Italia on display. As a bonus, there are also Jaguar, Land Rover and Maserati cars on the premises. Yes, no appointments necessary.