Ferrari lovers who can't get their hands on an actual Ferrari can enjoy riding the brand's cars--on a roller coaster.
CarScoop has revealed a photo of a four-seater Ferrari F430 which will be used in one of the roller coaster rides at the Ferrari World theme park in Abu Dhabi.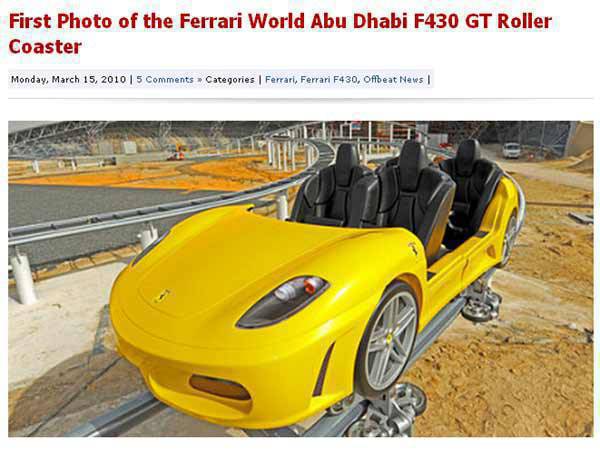 ADVERTISEMENT - CONTINUE READING BELOW ↓
The car is a stylized replica of Ferrari's current mid-engined V8 sports car. It will run with another four-seater F430 on twisting parallel tracks in a race to the finish line.
Another attraction will put Ferrari World visitors in a replica F1 car which will run at speeds of over 200kph and allow them to feel the g-forces F1 drivers experience during a race. The F1 ride is expected to be the world's fastest rollercoaster when it starts running. Ferrari World is set to open later this year.
ADVERTISEMENT - CONTINUE READING BELOW ↓
Recommended Videos
Although the theme park bears the Ferrari brand, the venue is meant to be enjoyed even by non-Ferarri fans as the park aims to appeal to all ages.
"From the very beginning, we focused that there has to be something for all age groups. (We've got) thrill rides...for lovers of speed and action of all ages but we've got a lot of rides that are family-oriented," Claus Frimand, general manager of Ferrari World, said in a televised interview. "A lot of it (is) focused on Ferrari of course, but also showing the landscapes and highlights of Italy. It's very much a family experience."
ADVERTISEMENT - CONTINUE READING BELOW ↓