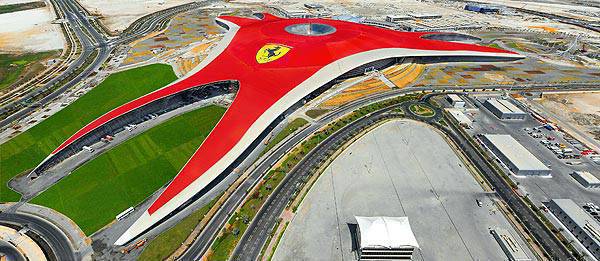 If you're of the moneyed individuals who have been dying to step inside Ferrari World Abu Dhabi, you'll have to wait a little bit longer.
The planned soft opening of the Ferrari theme park was cancelled after Sheikh Saqr bin Mohammed al-Qassimi, one of the seven Emirs of the United Arab Emirates, passed away.
"First of all I would like, on behalf of both myself and everyone at Ferrari, to express our sincere condolences to the government and the population of the United Arab Emirates for their tragic loss," said Ferrari chairman Luca di Montezemolo. "Then I would like to thank the nation and all those who made it possible to make this dream - a unique theme park dedicated to the world of Ferrari - a reality. Congratulations to everyone involved."
Though Ferrari World Abu Dhabi has yet to announce when the Ferrari theme park will officially open, Montezemolo promises that even non-Ferrari fans will enjoy the park's offerings.
ADVERTISEMENT - CONTINUE READING BELOW ↓
"This park combines innovative technology and tradition, it is dedicated not only to Ferrari fans and car enthusiastic, but to the whole family; there are attractions for kids, men and women. It has also the real touch of Ferrari: how things really are for us, with our exclusive GT road cars and racing cars, but also our history and our cultural background," Montezemolo added. "We are pleased to see that all this has become reality, and that the excitement - like the roller coaster that makes you feel like a Formula One driver - goes hand-in-hand with messages that perfectly combine having a good time with the reality represented by the passion for Ferrari."
Since we can only dream of stepping into Ferrari World Abu Dhabi--no thanks to its exorbitant entrance fees--we'll have to content ourselves with photos of the actual rides.
[gallery]620[gallery]
ADVERTISEMENT - CONTINUE READING BELOW ↓
Recommended Videos