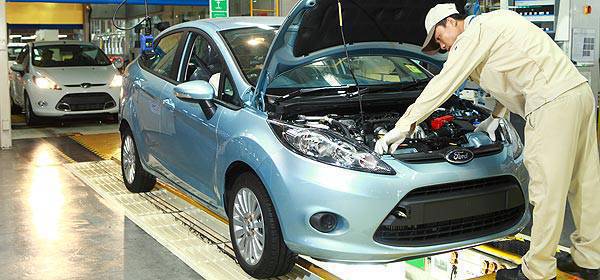 The initial batch of Ford Fiesta units built specifically for the Southeast Asian market has rolled off AutoAlliance Thailand's assembly line in Rayong, Thailand.
The first Thai-built Fiestas--a Highlight Silver four-door sedan and Chili Orange five-door hatchback--were driven off of the line by Raj Nair, vice president of operations for Ford Asia Pacific and Africa; and Peter Fleet, president of Ford ASEAN.
"Today's celebration and start of production in Thailand marks the latest milestone in the global success story for Ford Fiesta," Nair said. "The Fiesta--which is now being built in five of Ford's global production hubs and available on five continents--is a leading example of our One Ford plan to develop vehicles that meet the needs, wants and expectations of customers around the world."
Continue reading below ↓
Recommended Videos
Volume production of the Fiesta is scheduled to ramp up in the coming weeks as the highly-anticipated subcompact becomes available throughout the ASEAN region in the coming months.
"We are absolutely confident that the Fiesta is the right car at the right time, and that consumers across ASEAN will respond with the same enthusiasm as have the nearly one million new Ford Fiesta owners around the world," Fleet said. "We will set a new standard for small cars in ASEAN, with a truly fantastic car that delivers several first-in-class technologies, superior fuel economy, and an all-around fun driving experience."
The Ford Fiesta is set to arrive in the Philippines before the end of the year. In June, Ford Group Philippines launched its ConnectWithFiesta digital campaign via three online portals to tap a wider market of online users and fans--ConnectWithFiesta.com, Ford.com.ph and Ford Fiesta in the Philippines on Facebook.
"Ford Fiesta will mark another milestone in the growth of Ford Group Philippines as we enter the fast growing and highly competitive small car segment," said Randy Krieger, president of Ford Group Philippines. "Since we began our Fiesta activities, especially our digital initiatives, we have been very encouraged with the level of excitement and passion our customers have shown. We are extremely excited to officially introduce the Fiesta within the next few months and welcome our customers to Feel the Difference Ford Fiesta will make in their lives."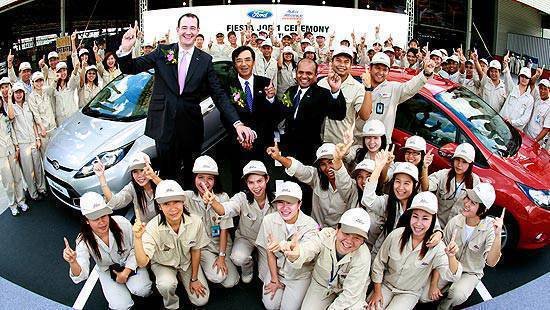 The All-New Ford Fiesta Job1 Ceremony with the first Thai-built Fiestas and AutoAlliance Thailand factory workers. Joining them in the middle are Peter Fleet, president of Ford ASEAN, Toshinori Kusuhashi, president of AutoAlliance Thailand and Raj Nair, vice president of Operations for Ford Asia Pacific and Africa.