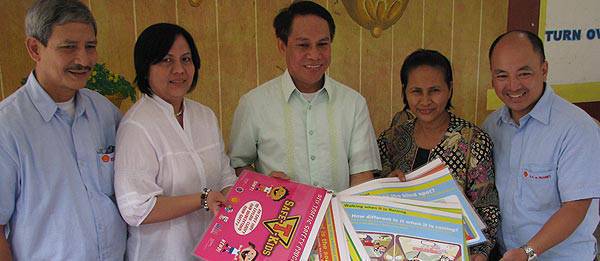 The Philippine Global Road Safety Partnership (PGRSP) has teamed up with the government, the private sector and other non-government organizations to educate schoolchildren on road safety.
Utilizing flash cards as instructional materials for public school students in the fifth grade, the PGRSP, Department of Transportation and Communications (DoTC), Department of Education and Metropolitan Manila Development Authority are working together to boost the national drive to reduce road casualties, especially among children.
According to the PGRSP, 263 children become victims of road accidents on any given day. Injuries caused by these accidents are the second most common type experienced by children between the ages of five and 12 years old. The organization hopes that employing colorful flashcards that depict different everyday scenarios can effectively catch the children's attention and aid the teachers in teaching road safety in a visually appealing manner.
The pilot test for the Safe T Kids Road Safety Project will start this March and run for the next six months. The following schools are part of the testing:
ADVERTISEMENT - CONTINUE READING BELOW ↓
1. Bacood Elementary School
2. Bagong Barangay Elementary School
3. Bagong Diwa Elementary School
4. Beata Elementary School
5. F. Amorsolo Elementary School
6. Geronimo Santiago Elementary School
7. J. Zamora Elementary School
8. Pio del Pilar Elementary School
9. Sta. Ana Elementary School
10. Tomas Earnshaw Elementary School.
DoTC assistant secretary Dante Lantin said the schools were selected for the project because they are located in accident-prone areas. Lantin added that fifth-grade level students were chosen because "at ages 10 to 12, they are left to walk to and from their schools by themselves." He added that at this age, kids develop the a sense of determining when it is safe to cross depending on a vehicle's speed and on traffic gaps.
Lantin said teachers will be tasked to assess if the flashcard project is effective.
"After the pilot test, we'll assess the data they've gathered and see just how much the students' knowledge on road safety before and after the pilot test has changed, if there are things that we can improve on the flash cards and on the method of instruction before we finally roll out the project nationwide," the Transport official said.
ADVERTISEMENT - CONTINUE READING BELOW ↓
Recommended Videos
Other organizations and companies involved in this road safety project are the Automobile Association of the Philippines, Pilipinas Shell, Motorcycle Development Program Participants Association, Motorcycle Riders Course and Sunshine TV.
[gallery]791[gallery]