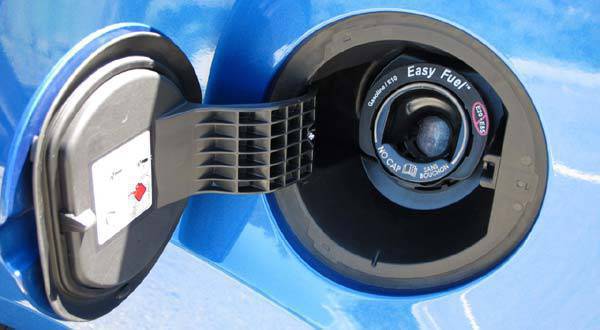 As you know, Ford Group Philippines has just officially made available the cute Fiesta subcompact hatchback and sedan in our market. And it's been generally well-received by the public, except perhaps for one small thing: Apparently--Filipino car buyers insist, especially on online automotive forums--the Fiesta has a crucial design flaw. That flaw, they point out, concerns the car's capless fuel tank. They say this could be an issue especially in a country where theft and vandalism are rampant. For instance, they explain, a diligent miscreant could siphon off the precious fuel and empty the Fiesta's fuel tank.
But is this really possible? To settle the issue once and for all, we engage Ford Group Philippines in an enlightening Q&A. We hope this will finally assuage the doubts of those wishing to buy a Fiesta but are worried over Ford's so-called capless fuel system.
Before anything else, just what is this capless fuel system?
In response to global consumer demands, Ford Motor Company studies each and every product feature that it incorporates into its vehicles. One of these design enhancements that have been specifically engineered as an added key feature in the company's newest and most advanced vehicles is the Ford Easy Fuel capless fuel system. Capless refueling is the latest global technology around the world. While most countries have been used to unscrewing the fuel cap, times have changed. Capless fuel-filler technology eliminates the inconvenience of forgetting to put the gas cap back on after fueling and saves time during refueling by eliminating the need to unscrew a fuel filler cap. It's also better for the environment because no gas fumes escape.
ADVERTISEMENT - CONTINUE READING BELOW ↓
How does it work?
The Easy Fuel capless fuel-filler system acts as an integrated spring-loaded flapper door that allows customers to simply insert the fuel nozzle into the tank to fill up. Easy Fuel automatically seals after the fuel nozzle is removed--no waiting for customers to re-secure the cap, emitting fewer evaporative emissions into the environment. The technology was introduced by Ford in 2008, and other car manufacturers are following suit. Presently, in the Philippines, the 2010 Expedition and the all-new Fiesta are among the Ford vehicles that make use of the Easy Fuel capless fuel-filler system.
What about customers' fear that vandals might tamper with the fuel tank?
We can assure our valued customers that the Fiesta's capless fuel system is perfectly safe and secure. Ford engineers are not so clueless as to fail to take this into the design consideration. We invite everyone to personally inspect the Fiesta at any of our dealerships. Tampering with its capless fuel system is just as difficult as tampering with a regular locked fuel lid.
To summarize, the benefits of capless refueling are?
No lost fuel caps, no dirty hands, no risk of unwanted fuels, reduced carbon dioxide emissions, and a fuel tank that's sealed for dust and water. The Fiesta's capless fueling is changing the benchmark. It really is the smarter choice.
ADVERTISEMENT - CONTINUE READING BELOW ↓
Recommended Videos