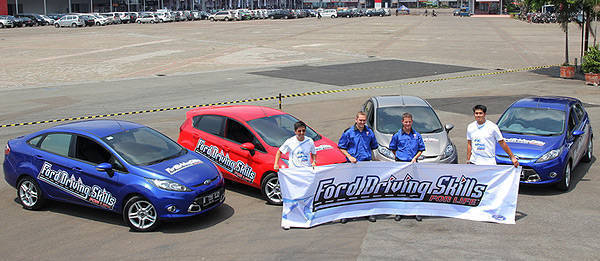 Ford Group Philippines recently sent two representatives to the regional refresher training courses for the instructors of its award-winning Driving Skills for Life (DSFL) campaign to "further its commitment to reducing the number of traffic fatalities and injuries in the country."
According to the American carmaker, critical to the program's success is that its trainers are of the highest standard, which is why it has rolled out its Train-the-Trainer (TTT) program. Ford claims that the TTT program "presents an opportunity for DSFL trainers to get together with top-caliber instructors, who ensure that they are fully prepared when they present the program in their local markets."
For 2012, a two-day refresher TTT program was conducted by South Africa's RAC Driving Solutions and participated in by DSFL instructors from Thailand, Taiwan, Vietnam, India, Indonesia, the Philippines and China. The training reportedly included a defensive driving-skills audio presentation covering car control, distracted driving, driving under the influence of alcohol, the importance of safety belts, and the six positions of a two-car crash. The instructors also presented a lesson plan for their local DSFL program to the RAC trainers and received feedback on it. This was followed by an in-car practical driving session that required each person to instruct and drive. Trainers were also tested to ensure that all the safety and eco-driving skills were applied in actual driving.
Continue reading below ↓
Recommended Videos
In the Philippines, Ford's road safety program first started in 2005 before it was relaunched in 2008 under its global DSFL program. It has since had more than 20,000 participants.
"As one of the fastest growing automotive brands in the country, we are going further by providing our customers best-in-class vehicles but also by providing them with the right knowledge and skills to become safe, smart and fuel-efficient drivers on the road," said Anika Salceda-Wycoco, assistant vice president for communications of Ford Group Philippines.