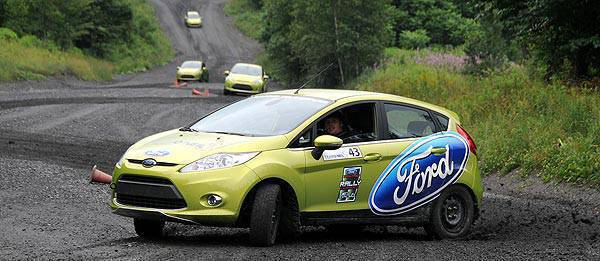 Rally driver wannabes can now unleash their inner Ken Block as Ford Racing will supply 43 units of the Ford Fiesta to Team O'Neil Rally School to jumpstart the Ford Racing Fiesta Rally Experience program and train aspiring motorsport drivers.
Team O'Neil will modify each production front-wheel-drive Fiesta with a roll bar, rally suspension and off-road tires before using it for the Ford Racing Fiesta Rally Experience.
"Our philosophy at Team O'Neil is to teach drivers how to master front-wheel drive in order to keep speed in the corners, accelerate through the corners, and use the brake to make a turn," said Tim O'Neil, five-time United States and North America rally racing champion. "Fiesta is a strong, light, front-wheel-drive car. The addition of Ford Racing-developed performance parts including a rally suspension, underbody protection and roll bar gives us a great future with these cars."
At a cost of $495 for the one-day Ford Racing Fiesta Rally Experience, students will be taught the aspects of rally car driving like the left-foot braking technique professional rally drivers use as well as other braking, steering, and throttle techniques that would allow drivers to slide through corners while in control of the car. Students will also get their money's worth as most of the day will be spent driving on either the skid pad or slalom course, practicing the techniques of car control, and rally driving on gravel conditions in a rally-prepared Ford Racing Fiesta.
Continue reading below ↓
Recommended Videos
"The Ford Fiesta has had a memorable rally debut here in the U.S., winning at last year's X Games and most recently partnering with Ken Block in Rally America," said Jamie Allison, director of Ford North America Motorsports. "With this opportunity, who knows if the next Ken Block will start his rally career with a session at Team O'Neil in a Ford Fiesta."
The 43 Fiestas will come from the 100 European-spec Fiestas Ford brought to the US in 2009 as part of the Fiesta Movement marketing campaign prior to car's official launch.