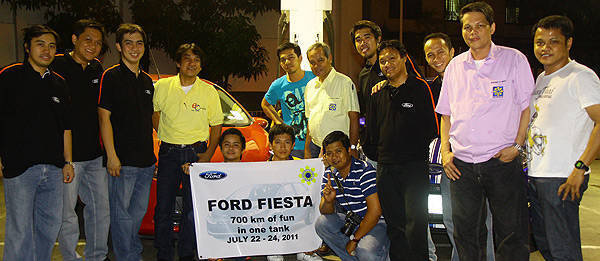 Ford Philippines showed just how frugal and fuel-efficient the Fiesta is when it recently staged a 700-kilometer fuel economy run with four Fiesta models to travel from Balintawak, Quezon City, all the way to Vigan, Ilocos Sur, and back on only a single tank of gas.
Before starting the run, the Department of Energy (DoE) examined all four test vehicles and sealed the cars' bonnets, fuel lids, boots and lift gates. All four Fiestas had two occupants each--a driver and a navigator--and the units were driven in normal driving conditions. This meant that the Fiesta's windows were closed at all times while the air condition was set at the lowest fan speed for the entire run. The cars then traveled to Vigan and back with their speeds averaging between 40 to 80kph depending on the traffic conditions. The DoE was also present when the Fiestas were refueled at the run's conclusion to verify the results.
At the end of the run, the 1.6-liter, automatic transmission-equipped Fiesta Trend sedan proved to be the most economical as it registered a total mileage of 747 kilometers and an average fuel consumption of 19 kilometers per liter.
The two range-topping 1.6-liter Fiesta Sport Hatchbacks were a close second as it covered more than 730 kilometers and had fuel consumption averages of 18.84 kilometers per liter and 18.73 kilometers per liter.
Continue reading below ↓
Recommended Videos
The 1.4-liter, manual transmission-equipped Fiesta Trend sedan also exceeded its expectations as it drove 705 kilometers on a single tank and had an average fuel consumption of 17.03 kilometers per liter.
"The All-New Ford Fiesta proved that it is indeed a class-leader for fuel efficiency, confirming expectations with some very impressive results," said Ford Group Philippines' assistant vice president of marketing Dino Obias.