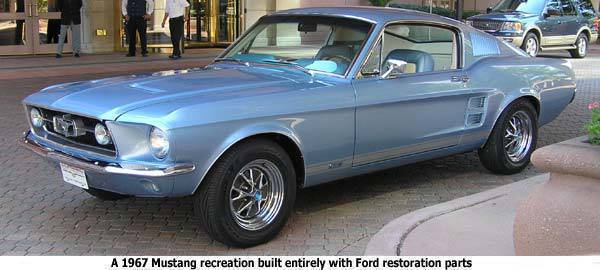 Alex Isip will no longer have a hard time restoring classic Mustangs to showroom condition as Ford Motor now offers 9,000 parts readily available from the classic Model T of 1909 to those made in the early 2000s with the American carmaker's restoration parts licensing program.
Restorers and enthusiasts can search for the vintage part they're looking for in brand-new condition by visiting www.fordrestorationparts.com.
Ford said the restoration parts program is so comprehensive that "an enthusiast can actually construct a 'new' vintage Ford using reproduction parts."
"You can literally build a 1967 Mustang using officially licensed Ford restoration parts right from your computer, without ever visiting a wrecking yard," Ford Component Sales' (FCS) restoration licensing manager Dennis Mondrach said in a statement. "Complete steel bodyshells are available, Ford Racing can supply crate motors, and specialty manufacturers make all the hardware, drivetrain, interior parts and even instruments with classic or customized faces. You can build your car as a classic or upgrade the components you choose."
Continue reading below ↓
Recommended Videos
Befitting of Ford's iconic nameplate and model, four complete Mustang bodies from 1967 to 1970 are offered with the program. Later this year, the first truck-based body of the classic 1960s Bronco will also be made available.
"When Ford stops making a part and retires the tooling, that tooling is offered to FCS," Mondrach said. "Based on the type of component and whether we think it would be of interest to the vintage vehicle market, we then offer it to one of our 75 licensed manufacturers and they put the tooling back into service."
Good news for local Ford Mustang owners, don't you think?