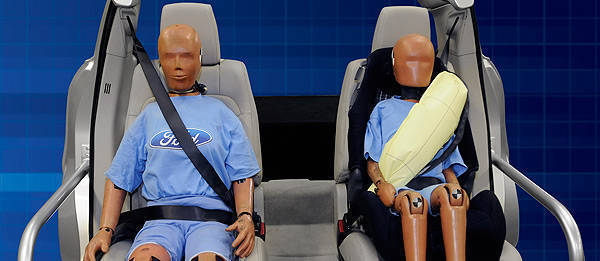 The 2.0-liter Ford Explorer GTDi XLT that will debut at the Manila International Auto Show next week is raising the bar in vehicle safety. Besides using high-strength steel like boron for its body structure like the range-topping 3.5-liter 4x4 Limited to increase its rigidity and help protect its passengers, it will also introduce to the Philippine market the world's first inflatable second-row seatbelts.
According to Ford, advances in airbag inflation and seatbelt construction methods have enabled it to develop the inflatable seatbelts that are designed to deploy over a vehicle occupant's torso and shoulder in 40 milliseconds in the event of a crash. With rear seat passengers--often children or elderly passengers--being more vulnerable to head, chest and neck injuries in a car crash, its engineers designed the advanced restraint system to help reduce such injuries.
Each belt's tubular airbag inflates with cold compressed gas, which flows through a specially-designed buckle from a cylinder housed below the seat. In the event of a frontal or side crash, the inflatable belt's increased diameter more effectively holds the occupant in the appropriate seating position, helping to reduce the risk of injury.
The inflated belt also helps distribute crash-force energy across five times more of the occupant's torso than a traditional belt, thereby expanding its range of protection and reducing risk of injury by diffusing the crash pressure over a larger area while providing additional support to the head and neck. After deployment, the belt remains inflated for several seconds before dispersing its air through the pores of the airbag.
Continue reading below ↓
Recommended Videos
"The All-New Explorer 2.0L GTDi XLT combines--all at once--our best technologies to not only help prevent a crash, but to help prevent injuries to occupants when a crash is unavoidable," said Vinay Piparsania, vice president for marketing and sales of Ford Group Philippines. "Ford's rear inflatable seat belt technology will enhance safety for rear seat passengers of all ages, especially for young children who are more vulnerable in crashes. This is another unique family technology that builds on our safety leadership, including the most top safety ratings of any automaker."