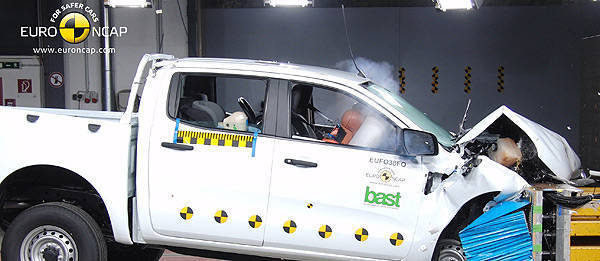 As if the all-new Ford Ranger's not desirable enough already, its performance at the European New Car Assessment Program's (Euro NCAP) latest round of crash tests is out to make you want it all the more. It is the first pickup truck to achieve the maximum five-star rating under the group's crash-test protocol.
According to the Euro NCAP, the Ranger scored 89 percent in overall safety, giving it not just one of the highest scores recorded by the group for any type of vehicle but the highest score ever for a pickup truck. In addition, the Ranger's 81 percent score for pedestrian protection is also the highest rating of any vehicle ever tested by the Euro NCAP.
"With such good pedestrian protection, the Ford Ranger is undoubtedly raising the bar of safety in the category of pickup trucks, which had until now not proven to be the safest," said Euro NCAP secretary-general Michiel van Ratingen.
Using sophisticated computer modeling, Ford engineers assessed more than 9,000 virtual crash tests before any of the 110 actual vehicle crash tests or 410 system sled tests were undertaken. These virtual simulations allowed the engineers to optimize the vehicle structure and safety systems to provide the maximum levels of protection possible in a wide-range of real-world collisions. All this was achieved before any real prototype vehicle was built and subjected to crash testing.
"On the all new Ranger we did more crash simulations than any of our prior programs to ensure all parts of the vehicle's safety performance were optimized," said Adam Frost, Ford Asia Pacific and Africa's chief engineer for digital innovation. "This was backed up by a comprehensive physical crash test program. The end result is a world-class outcome we are all very proud of."
ADVERTISEMENT - CONTINUE READING BELOW ↓
For the Ranger's outstanding pedestrian protection, Ford applied the technologies it developed from the carmaker's global research project on pedestrian-friendly vehicle designs. This includes a hexageneous under-bonnet structure to reduce the potential for pedestrian head injuries, and a pedestrian-friendly front bumper design incorporating energy-absorbing materials.
"Vehicle safety is a core value at Ford Motor Company and these independent test results confirm that not only is Ranger the highest rated vehicle in its class, it is also one of the highest rated vehicles ever assessed by Euro NCAP," said Stephen Odell, chairman and chief executive of Ford of Europe. "No one wants to be involved in an accident but if the worst were to happen, the new Ranger is proven to provide outstanding protection to occupants of all ages as well as pedestrians."
ADVERTISEMENT - CONTINUE READING BELOW ↓
Recommended Videos