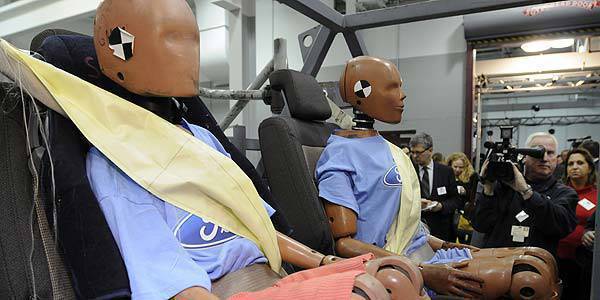 Popular Mechanics has revealed the winners of its seventh annual Breakthrough Awards and one of them is Ford for its rear inflatable seatbelts.
"Ford's goal is to develop innovative safety technologies that give our customers more peace of mind, so it is a great honor to receive the Breakthrough Technology Award," said Srini Sundararajan, safety technical leader for Ford Research and Innovation and the lead developer behind the technology. "I thank Popular Mechanics for recognizing the contributions of a number of dedicated engineers from Ford."
The rear inflatable seatbelts are designed to provide additional protection for rear seat occupants as they combine the attributes of traditional seatbelts and airbags to help provide an added level of crash safety protection for rear seat occupants.
Ford introduced the inflatable rear seatbelts in the all-new Explorer. While it will only be available initially to the North American market, Ford said it will eventually distribute the technology worldwide and across its models.
Unfortunately, that time has yet to come as the Explorer launched in the Philippines last week is not yet equipped with the new safety system. According to Anika Salceda, assistant vice president of corporate communications for Ford Group Philippines, they have yet to be advised on the availability of the rear inflatable seat belts for the Philippine market.
The Popular Mechanics' Breakthrough Awards are given in two categories: innovators, whose inventions will make the world smarter, safer and more efficient in the years to come, and products, which are setting benchmarks in design and engineering today.
ADVERTISEMENT - CONTINUE READING BELOW ↓
ADVERTISEMENT - CONTINUE READING BELOW ↓
Recommended Videos