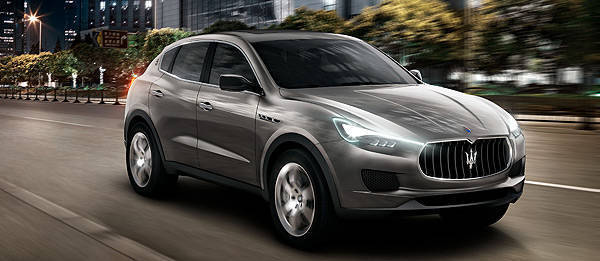 Maserati has decided to reinvent the sport-utility vehicle (SUV) by infusing it with the kind of uplifting driving pleasure and luxury atmosphere offered by today's high-end sports and luxury cars to create a sport luxury SUV concept.
Known as the Kubang, Maserati calls it "the forerunner of the future Maserati range," creating a new segment for the Italian carmaker while still maintaining the integrity of Maserati's DNA.
The Kubang builds on the idea of a luxury SUV that Maserati first unveiled at the Detroit Auto Show in 2003--a concept that bears the same name. Today, with the help of its sister brand, Jeep, the Maserati Kubang is now closer than ever to production.
According to the Italian carmaker, the essence and all major components of the Kubang luxury SUV is unmistakably Maserati. Its style, engine, suspensions, brakes, handling and performance is 100-percent Maserati in keeping with the brand's core values of sportiness, style, elegance, luxury, performance and craftsmanship.
New-generation high-tech Maserati engines designed in Modena by Paolo Martinelli, chief of the carmaker's powertrain department and for nearly 30 years at Ferrari where he also served as the engine chief of the Formula 1 racing team, and produced in Maranello by Ferrari will power the Kubang.
Continue reading below ↓
Recommended Videos
An eight-speed automatic transmission and specific performance settings such as suspensions, brakes, steering will be exclusively developed in Modena for the Kubang by the Maserati product development department.
"Until today Maserati has been producing sedans, coupes and two- or four-seater convertibles. Whether we named them Quattroporte, GranTurismo or GranCabrio--or, before them, Ghibli, Mistral, Bora or Indy--their common denominator rested in two words: sportiness and luxury," Maserati said in a statement. "Times have changed: sportiness and luxury today don't have just one definition. They can also take the form of a very dynamic looking and high performing sport luxury SUV."
Click here for more updates on the 2011 Frankfurt Motor Show
[gallery]1041[gallery]