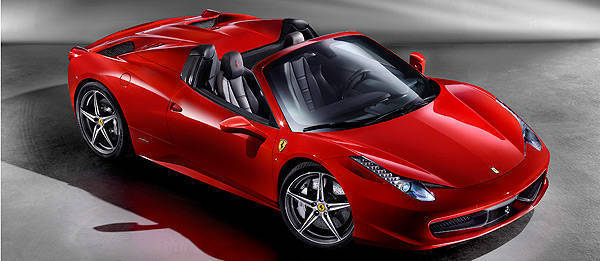 Ferrari has finally unveiled the 458 Italia that further widens the Italian carmaker's range of mid-engined V8s, which offers the same uncompromising technological solutions, handling and performance of its coupe variant in a refined open-top configuration.
Ferrari calls the 458 Spider "the world's first mid-rear engined berlinetta," thanks to its Ferrari patented, fully-retractable hard top-- a unique feature in a sports car with this layout. Made entirely in aluminum, the hard-top solution adopted for the 458 Spider offers a number of advantages over the traditional folding soft-top, like a weight reduction of 25kg and the ability to deploy in just 14 seconds.
Fully integrated into the styling of the car, the hardtop was engineered to fit neatly ahead of the engine bay without compromising the aerodynamics or the performance of the car. The small space needed to house the roof enables the designers to include a generous rear bench for luggage behind the seats.
The 458 Spider is powered by Ferrari's naturally-aspirated, direct-injection 4.5-liter V8, which is known for its engineering excellence in terms of driveability, performance, economy and refinement. The power is transferred to the road by Ferrari's dual-clutch F1 paddle-shift transmission through the sophisticated E-Diff, which itself is integrated with the F1-Trac traction control and high-performance ABS for maximum handling dynamics.
Some of the car's features like its accelerator pedal mapping and the damping of the multilink suspension have been calibrated to emphasize the 458 Spider's sportiness and enhance driving pleasure with the top down. Even the engine soundtrack has been honed to ensure that the car's occupants are completely captivated by the drop-top driving experience.
The rear of the car is characterized by innovative forms with the buttresses designed to optimize the flow of air to the engine intakes and the clutch and gearbox oil radiators. For maximum comfort while driving with the top down, the 458 Spider features a generously-sized adjustable electric wind stop that slows and diffuses the air in the cockpit, enabling normal conversation to be held even at speeds of over 200kph.
"New technical solutions adopted for the chassis guarantee identical levels of structural rigidity with the roof up or down. The result is a car that is truly exciting to drive, blending extreme performance with the responsiveness that has always characterized Ferrari's open-top berlinettas," Ferrari said in a statement.
Ferrari did not disclose when the 458 Spider will be available to the public.
Click here for more updates on the 2011 Frankfurt Motor Show
[gallery]1014[gallery]