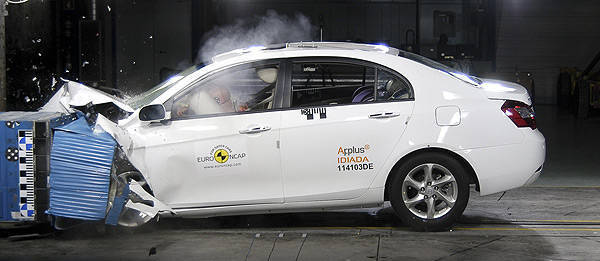 The notion that Chinese cars are unsafe could soon be a thing of the past as the Geely Emgrand EC7 recently received a four-star rating in the European New Car Assessment Program's (Euro NCAP) safety test program.
"These results mark a milestone for the Chinese automotive industry. It is a clear sign that Chinese carmakers are building on recent experiences and rapidly investing in better vehicle safety," said Euro NCAP secretary general said Michiel van Ratingen. "Even with the upcoming increased demands, five stars are expected to be within reach soon."
Euro NCAP tested the Emgrand EC7 as Geely will be entering the European car market through the United Kingdom at the end of 2012.
"As we prepare to launch the Geely brand in the UK this high safety rating is very welcome and it will be a significant element of the total peace of mind, value for money, long warranty and excellent customer service ownership proposition our cars will provide," said Geely Auto UK market development director Matthew Cheyne. "In the past Chinese domestic market vehicles have perhaps had an unfair reputation for safety but this latest Euro NCAP rating shows our new generation vehicles provide a competitive high level of safety and build quality."
AutoChina, the Philippines' exclusive distributor of Geely vehicles, displayed the Emgrad EC7 compact together with the Panda hatchback at the Manila International Auto Show last April.
ADVERTISEMENT - CONTINUE READING BELOW ↓