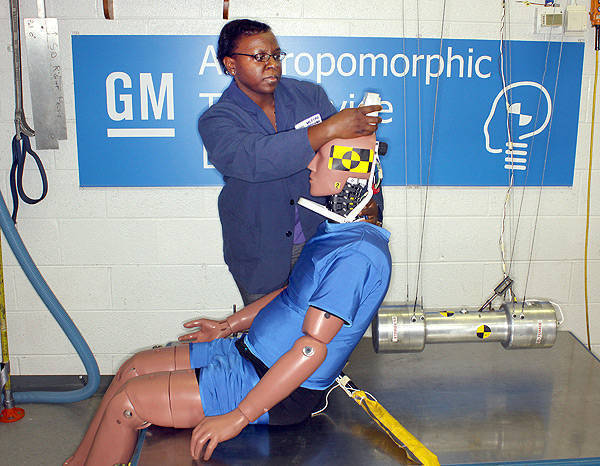 General Motors is currently developing a new crash-test dummy that would help automakers and safety experts better understand how car-crash victims are hurt in rear-end collisions.
Co-developed with Chalmers University in Gothenburg, Sweden, the dummy, which goes by the name 'BioRID', was designed for seat restraint assessment. As such, its design is distinguished by its sophisticated spinal column with 24 vertebra simulators that allow it to sit naturally and demonstrate human-like neck movement in rear-end collisions.
For the BioRID to be fully accepted by car manufacturers and safety organizations, it must first deliver repeatable, reproducible test results, which is integral to the design and evaluation of vehicle safety. On this end, GM has developed and conducted tests to evaluate the ability of different BioRID dummies to produce consistent measurements when they are subjected to identical tests.
To create the test matrix, GM crash-test engineer Barbara Bunn collaborated with engineers from Chrysler, Ford and Humanetics Innovative Systems, which manufactures the BioRID. Bunn also designed the construction of a crash simulator sled to simultaneously test four BioRIDs.
The tests subjected the dummies to a low-speed rear-impact simulation in nearly identical seats, and collected measurements of crash forces on areas such as the upper and lower neck. The team compared its measurements to data from similar tests conducted by other laboratories in Europe and provided its findings to regulators worldwide.
Continue reading below ↓
Recommended Videos
"The execution of the BioRID test matrix couldn't have been done without a strong spirit of collaboration," said Bunn. "Ultimately, every automaker wants to improve the crash dummies that we use to design safety into our vehicles. That way, all of our customers will benefit in the long run."