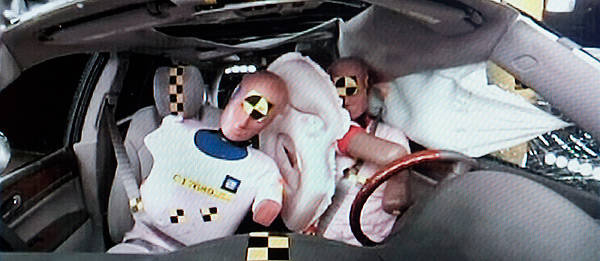 General Motors (GM) will introduce to the market in 2012 a first in the industry: a front center airbag that has been designed to protect drivers and front seat passengers.
The front center airbag works by deploying from the right side of the driver's seat, positioning itself between the front row seats near the center of the vehicle. Co-developed with automotive aftermarket equipment supplier Takata, the tethered, tubular airbag was not only designed to serve as a restraint during passenger-side crashes when the driver is the only front occupant. It also acts as an energy-absorbing cushion between driver and front passenger in both driver- and passenger-side crashes.
According to GM, in non-rollover impacts between 2004 and 2009 involving 1999 model year or newer vehicles in the United States, far-side impact crashes accounted for 11 percent of the belted front-occupant fatalities. These far-side fatalities, where the occupant is on the non-struck side of the vehicle, also represent 29 percent of all the belted front-occupant fatalities in side impacts.
ADVERTISEMENT - CONTINUE READING BELOW ↓
"While no restraint technology can address all body regions or all potential injuries, the front center airbag is designed to work with the other airbags and safety belts in the vehicles to collectively deliver an even more comprehensive occupant restraint system," said Gay Kent, GM's executive director of vehicle safety and crashworthiness. "This technology is a further demonstration of GM's above-and-beyond commitment to provide continuous occupant protection before, during and after a crash."
The front center air bag will be introduced as standard on all variants of the Buick Enclave and will come as standard with the power seats-equipped GMC Acadia and Chevrolet Traverse.
ADVERTISEMENT - CONTINUE READING BELOW ↓
Recommended Videos