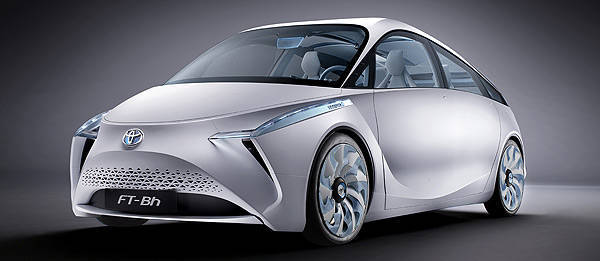 At the ongoing Geneva Motor Show, Toyota is showing a new concept that is "designed to take the efficiency of full hybrid vehicles to new heights."
Known as the FT-Bh concept, it is an ultra-light vehicle that weighs less than 800kg, demonstrating what can be achieved in terms of fuel consumption and carbon dioxide emission in an affordable family supermini.
Similar in size to the Yaris, the FT-Bh concept's emissions are just half of that emitted by a 1.0-liter Yaris, thanks to its low weight, a slippery drag coefficient of just 0.235, very low driving resistance and highly efficient powertrain.
Key panels of the FT-Bh, like the roof, are formed to represent the way fabric can be stretched taut between fastening points to reflect the car's ultralight weight while its front end broadcasts Toyota's current design language with its large lower grille, sculpted bonnet and headlamps that are neatly integrated into the front wings.
ADVERTISEMENT - CONTINUE READING BELOW ↓
The stretched fabric-look of the FT-Bh's exterior carries through to the minimalist interior where a concave center console creates a driver-focused cockpit while maintaining the overall feeling of spaciousness in the cabin.
According to Toyota, the target weight for FT-Bh was to be 25-percent lighter than the 1.0-liter Yaris, which has a curb weight of 1,030kg. Using a combination of high-tensile steel, aluminum and magnesium, Toyota has trimmed the weight of the FT-Bh concept to just 786kg. Toyota added that since the hybrid powertrain is heavier than the three-cylinder, 1.0-liter engine, the combined mass of the bodyshell, interior trim, chassis and electronics had to be reduced by around 340kg--one third of the Yaris's weight--to achieve the target.
Powering the FT-Bh is a downsized hybrid-drive system that's 90kg lighter than the Hybrid Synergy Drive system used in the Prius. With a lightweight, two-cylinder, 1.0-liter Atkinson cycle petrol engine combining high efficiency with low thermal capacity and benefits while simultaneously increasing combustion efficiency and reducing friction, the FT-Bh has an average fuel consumption of 57.182km/L and carbon dioxide emission of just 49g/km.
ADVERTISEMENT - CONTINUE READING BELOW ↓
Recommended Videos
[gallery]1176[gallery]