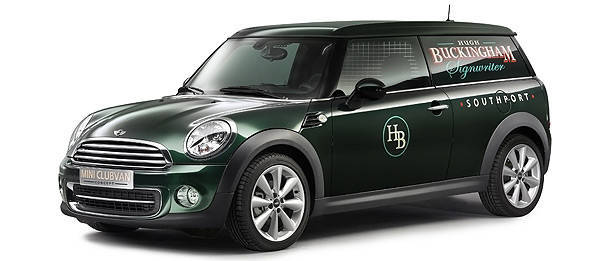 Mini just can't seem to run out of things to do with its product that after coming out with a convertible, wagon and sport-utility vehicle version, it is now toying with the idea of coming up with a van and the concept will premiere at the Geneva Motor Show in March.
According to Mini, the Clubvan Concept "combines the driving fun for which Mini is renowned with increased load-carrying capability."
Like the Clubman, the Clubvan Concept is a five-door car with two front doors for the driver and front passenger, two side-hinged doors at the rear and the rear-hinged Clubdoor on the right-hand side. The Clubdoor gives owners the option of loading or unloading smaller items from either the side of the car or the rear. What sets the Mini Clubvan Concept different from the Mini Clubman, however, is the closed-off load area behind the front seats, and the opaque rear side windows that open up the vehicle's potential for both business and leisure.
ADVERTISEMENT - CONTINUE READING BELOW ↓
Depending on the customer's business, Mini believes the Clubvan Concept is the perfect delivery solution. With just two seats, the Clubvan Concept not only expands the vehicle's capacity that its owner will need on a day-to-day basis but also opens it up to "a whole new world of customization potential."
The Clubvan Concept's cargo area reaches from the split rear doors to the partition grille located right behind the two seats. With the totally level floor making full use of the interior's depth, this allows the Clubvan Concept load capacity to exceed the maximum achieved by its Clubman brethren.
Made from solid aluminum and silver-colored stainless steel honeycomb grating, and fixed securely to the car body, the partition grille ensures that items stowed in the cargo area don't find their way to the front seats even under extremely heavy braking conditions. Helping to secure the cargo to the floor are six attachment loops recessed into the load compartment floor that use elasticized straps to hold items of varying lengths, heights and widths in place without the risk of them sliding around.
ADVERTISEMENT - CONTINUE READING BELOW ↓
Recommended Videos
Of course, being a Mini, the Clubvan Concept should still have a stylish and swanky interior, which is why its side walls and cargo-area floor are trimmed in high-quality anthracite-colored cloth while the anthracite roof liner extends along the full length of the interior.
Do you think this will go into production?
[gallery]1156[gallery]