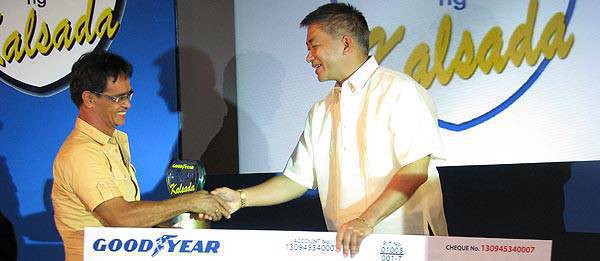 Goodyear Philippines has launched the fifth Bayani ng Kalsada Awards, a search for 'Good Samaritans' on the road "who demonstrate courage, sacrifice and concern for others through selfless heroic acts."
"Our commitment to our customers does not end with our products. We are also dedicated to encouraging people to become responsible and concerned drivers," said Goodyear Philippines' managing director Gerry Alava. "We believe that by giving recognition to these heroes, we promote an awareness for road safety, which we hope will eventually translate to a change in how we treat others on the road."
Goodyear will honor a Bayani ng Kalsada awardee from Luzon, Visayas, Mindanao and the National Capital Region, with each one winning P30,000 at the end of the search. Another nominee will be recognized as the overall champion with a corresponding cash prize of P50,000.
Last year's overall winner was jeepney driver Andy Alvarez, who saved the life of a passenger who was having a heart attack by taking him to the hospital. Alvarez stayed on to ensure that his passenger was given the care he needed, setting aside his concern for his daily income.
ADVERTISEMENT - CONTINUE READING BELOW ↓
The nomination is open to all Filipino professional drivers who "have shown honesty, responsibility and genuine concern for public safety while on the road." Nomination forms are available and can be submitted through Goodyear Autocare, Goodyear Servitek or Goodyear Tyre Pro outlets nationwide. Forms may also be downloaded via the Bayani ng Kalsada page on Facebook.
All submitted nominations will be evaluated by select transportation officials, media and sponsor representatives, and Goodyear executives. The panel of judges will then come up with a list of finalists from which they will choose 2010's "unsung heroes of the road."
Read about previous Bayani ng Kalsada results in Goodyear Honors Road Heroes and Goodyear honors 2009 Bayani ng Kalsada Awardees.
ADVERTISEMENT - CONTINUE READING BELOW ↓
Recommended Videos