A lawyer and road user has asked the government to conduct an ocular inspection of the Skyway to ensure if it is safe for motorists following the accident involving a bus that fell off the elevated road on July 27.
The inspection should be followed by an independent review of the road's engineering design and construction, lawyer Ernesto Francisco said.
"The users of the Skyway need to be assured that it is safe to use and that their lives are not placed in peril every time they use it," Francisco said in a statement published on ABS-CBNNews.com. "Without precluding human error or other possible causes of accidents, the design and construction of the Skyway should meet and comply with international standards and must have sufficient safety features that prevent accidents like vehicles falling off its ramp."
On July 2, a south-bound Dimple Star Transport bus fell off the Skyway and landed on the service road before the Sucat exit. The bus driver and two of the bus's passengers died while in the hospital. Four others, including the bus conductor, were injured from the incident.
ADVERTISEMENT - CONTINUE READING BELOW ↓
According to reports, bus conductor Jonathan Alebar said the accident was caused by a strong wind that hit the bus. In another report, however, it was said that the bus was running at 130khp, well above the 80kph speed limit imposed on buses.
From ABS-CBNNews.com (Click image to view video)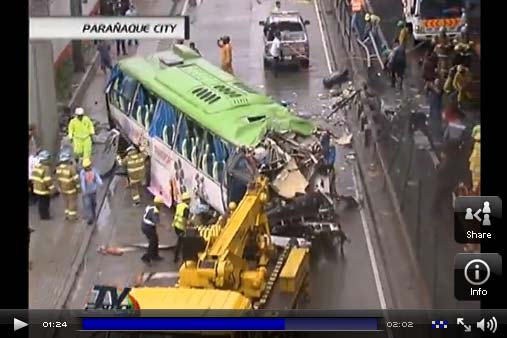 ADVERTISEMENT - CONTINUE READING BELOW ↓
Recommended Videos
Following the incident, Francisco said the Skyway should be inspected based on the following concerns:
* The concrete and steel railings are not tall enough, and they should be tested if they can withstand the impact of a wayward vehicle running at high speed;
* The asphalt pavement in certain areas of the Skyway is uneven;
* Parts of the elevated road, particularly the new portion, do not have white paint markers to separate the lanes; and
* There are slightly elevated structures in some points of the certain island and vehicles may suddenly swerve to avoid them.
Are you a Skyway user? What other factors should the government check and fix while they're at it?