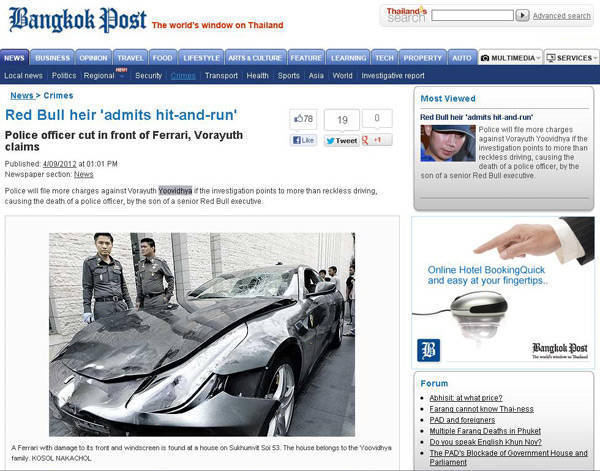 The grandson of Chaleo Yoovidhya, who co-created the Red Bull energy drink with Dietrich Mateschitz, has been arrested by the Thai police for running over and killing a policeman with a Ferrari FF.
According to the Bangkok Post, the 27-year-old Vorayuth Yoovidhya admitted that he ran into a motorcycle ridden by 48-year-old Senior Sergeant Major Wichian Klanprasert along Sukhumvit Road near Soi 47 in Bangkok. Klanprasert's body was then dragged approximately 200m by Yoovidhya's car as the latter sped away before parking the FF in the family estate at Sukhumvit Soi 53. Klanprasert reportedly died of a broken neck and multiple broken bones.
Police who were alerted of the incident supposedly followed a trail of engine oil that led from the scene of the accident to the entrance of the family estate. After securing a search warrant, the police found the FF in the estate's underground car park and subsequently confiscated it as evidence.
ADVERTISEMENT - CONTINUE READING BELOW ↓
Although Yoovidhya confessed to hitting Klanprasert, he said that the policeman came out of nowhere on his motorcycle and cut in front of him, leaving him unable to prevent the accident.
Besides cofounding the Red Bull energy drink, the Yoovidhyas also reportedly co-own Thailand's authorized Ferrari importer.
ADVERTISEMENT - CONTINUE READING BELOW ↓
Recommended Videos