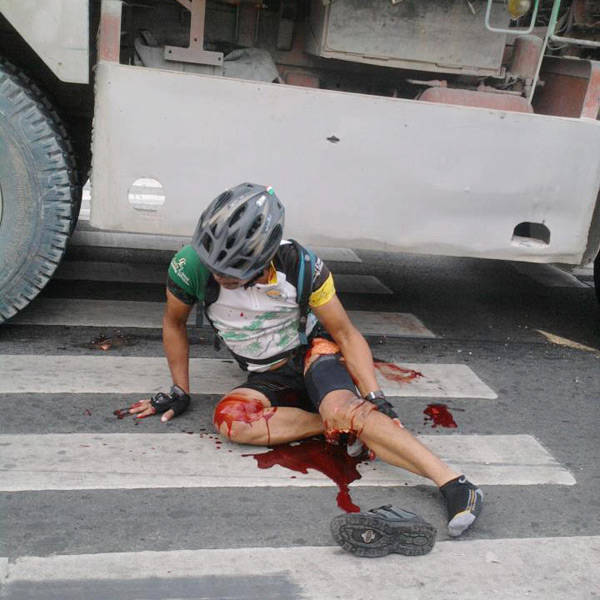 We always hear of the serious dangers involved in riding a bicycle on Philippine roads, but very few of us have actually seen a bicycle-related accident. Until now, that is, thanks to the horrifying photo being circulated on Facebook right now by the "We Want Bike Lanes in RP" movement. According to the manifesto that accompanies the photo, the man in the picture is Jojie Puricallan, a 43-year-old biker who was "pedaling his way home to Tagumpay Village in San Jose, Montalban," when he had a "fatal encounter with an...iron dump truck that ended his hopes and aspirations."
Puricallan, the copy says, later died in a nearby hospital. Ironically, the accident happened on November 17, one day before The Firefly Brigade--a group of bicycle riders advocating this sustainable form of transportation--was to hold the 14th Tour of the Fireflies.
And now, the movement or Facebook page is using the grisly image to lobby for bicycle lanes in the country. "We fight for our right to road safety and for our right to our protected space on the road," the group declares.
They have now created an online signature campaign on Change.org, hoping to gather 10,000 signatures to aid them in their continuing quest for bicycle safety. As we report this, the campaign has already collected more than 1,300 signatures.
If you're a bicycle rider or if you at least believe in the importance of dedicated bicycle lanes, head on over to the online campaign page and affix your digital signature. It's probably the least we can do for the loved ones left behind by Jojie Puricallan.