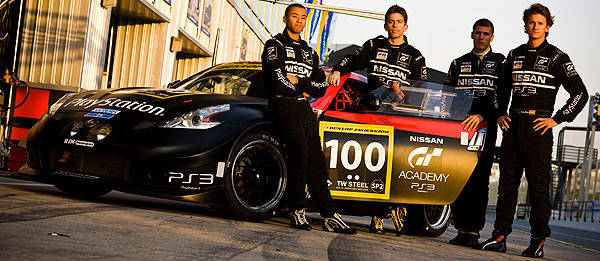 The graduates of Nissan and PlayStation's GT Academy did good in the recent Dubai 24 Hours endurance race as the team finished a respectable third place in its class and as the 26th overall finisher.
According to GTPlanet.net, behind the wheel of the RJN Motorsport Nissan 370Z when the chequered flag was waved to mark the end of the 24-hour race was Gran Turismo 5 expert and GT Academy 2011 winner Jann Mardenborough.
"That was without doubt the weekend of my life," said Mardenborough. "The only thing that compares to it is winning GT Academy last June. It feels like pure joy. This is just the first step for me and now I hope that my performance in Dubai can take me further."
Joining Mardenborough in the team were: Lucas Ordoñez, winner of the first GT Academy in 2008; Jordan Tresson, winner of GT Academy 2010; and Bryan Heitkotter, winner of GT Academy USA 2011.
If there's one person that could be happier than Mardenborough, though, it's probably RJN Motorsport and GT Academy chief Bob Neville.
"This is the first time that all four of my graduates have raced together so it is a special moment for me," said Neville. "I couldn't have asked for two better guys when Jann and Bryan won the European and USA competitions last summer. Like Lucas and Jordan before, them they came into this with their eyes and ears open and absorbed everything we taught them. It's particularly nice that we should do this in Dubai as it was here three years ago that an idea formed by Darren Cox of Nissan and Mark Bowles of Sony Computer Entertainment really came to life. This race was the toughest test and they all passed with flying colours. I'm proud of them all and proud to be part of GT Academy."
Continue reading below ↓
Recommended Videos