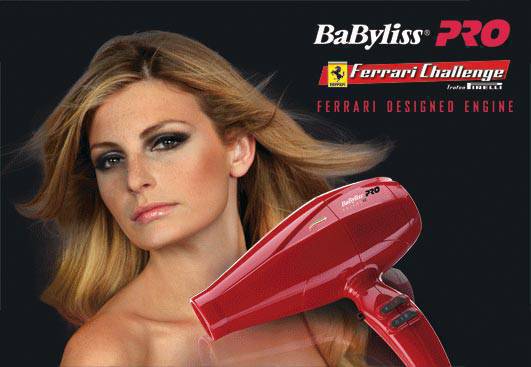 Hair care product manufacturer BaByliss Pro has partnered with the Ferrari Challenge Team to come up with the world's first professional luxury hair dryer to be powered by a Ferrari-designed engine.
Available either as a medium or a compact hair dryer, the Volare V1 and Volare V2 models come in either black or in Ferrari's traditional red. Powering it is an integrated AC V12 engine that puts out 2,200 watts and lets it run for up to 2,000 hours.
Both Volare models have 12 heat and speed controls designed to maximize the airflow and optimized to dry faster while delivering a longer lasting styling effect. Airspeed of both models measures 130kph and with their turbo-shot instant boost airflow, airflow pressure is increased up to 15 percent.
So, do you see yourself test driving a Ferrari-powered hair dryer soon?
Photos from BaByLissPRO.com