Honda CR-V units made from 2002 to 2004 are being recalled as Honda Cars Philippines (HCPI) wants to replace specific parts in the sport-utility vehicles' lighting-switch assembly.
HCPI found that the coupler terminal in the previous-generation Honda CR-V's lighting switch has a tendency to wear out. This happens due to stress on the low-beam wire whenever the light switch is turned.
Watch the video below for a more detailed explanation and demonstration by HCPI marketing department head Xavier Eyadan and HCPI service technical specialist Janilo Cadapan.
If you're viewing this on a mobile device and can't see the video, please click here.
HCPI said five cases have so far been reported in the Philippines, with the first one recorded back in 2004.
"The reason for that is because it takes a while to manifest and it also depends on the usage," Eyadan said.
He added that a total of 20,587 units of the Honda CR-V models 2002 to 2004 are affected by the recall. No injury or other untoward incident has been reported in line with the affected part.
Honda CR-V units involved in the recall bear the following frame numbers.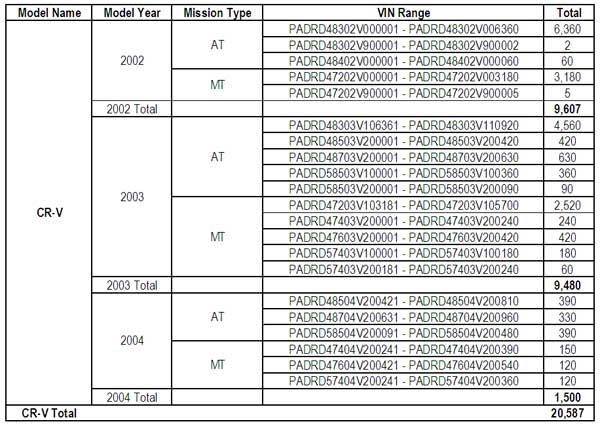 Continue reading below ↓
Recommended Videos
HCPI will send a letter of notice to concerned Honda CR-V owners starting April 2. Replacement of affected parts will start on April 4 and the entire repair will take about 40 minutes.
Replacement of the affected part will be conducted in all of HCPI's 28 authorized dealers and three service centers nationwide. The repair is free of charge.
Clients are requested to call Honda's hotline at 1-800-1000-HONDA (46632) or (02) 857-7240 or email customer_relations@hondaphil.com to make a service appointment.
Honda also assured that CR-V units belonging to other year models "will not experience the same failure because a different headlight lighting circuit has already been applied."
The 2002-2004 CR-V models were manufactured in Honda's Philippine plant at Santa Rosa, Laguna. Honda ceased the assembly of the SUV in the country when it started to import the new-generation model from Thailand in 2007.