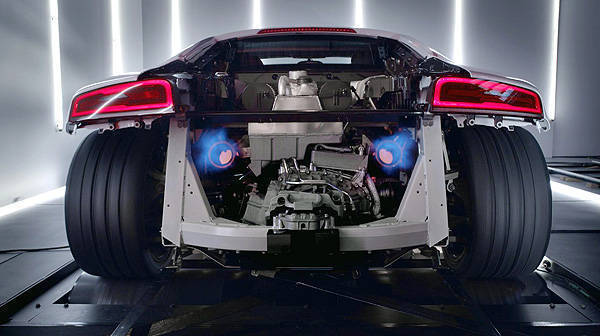 Every square inch of the Audi R8 V10 definitely gives it the look of a supercar. Sadly, it doesn't have the aural soundtrack of its peers, like the Ferrari 458 Italia or even the Lexus LFA.
Perhaps, as a way to show that the R8 V10 Plus engine is just as pleasant-sounding, Audi mounted the car on a dyno, removed some of the bodywork to expose part of its powerplant, and quickly worked through its six-speed transmission to get the 542hp mill roaring at full throttle.
Making it even more dramatic is the dual exhaust spitting out blue tongues of flame as the car throttles down from sixth to fourth gear.
"The new Audi R8 V10 Plus pushes boundaries in terms of performance and innovation," said Audi UK national communications manager Kristian Dean. "The new video content gives car enthusiasts the opportunity to hear the R8 V10 Plus being taken to the redline."
ADVERTISEMENT - CONTINUE READING BELOW ↓
So, does it sound as good as its contemporaries, or is it still lacking in excitement?
If you're viewing this on a mobile device and can't see the video, please click here.
ADVERTISEMENT - CONTINUE READING BELOW ↓
Recommended Videos