With the global economic crisis finally easing and with people holding on to their old cars for much longer, exhibitors at the Specialty Equipment Market Association (SEMA) Show are going all-out to promote what they have to offer.
Here are some of the most interesting stuff on the SEMA Show floor that's worth checking out.
1
. Aftermarket tuner
Hurst's one-of-a-kind Camaro
has a black and silver paint scheme with red and silver stripes painted over and around the black paint job. It comes with a Hurst AIR-SPEED decklid spoiler, 20-inch polished forged wheels wrapped with BFGoodrich tires, Eibach suspension components, Magnaflow exhaust system and exterior Hurst badges. Since Hurst is known for their transmission tweaks, this one-off gets a Competition/Plus unit with a red anodized HARD-DRIVE billet handle. The final touches to top off the list of features are the embroidered floor mats, a personalized dash plaque and signatures from the Hurst executive team under the trunk lid.
The 2010 Hurst Camaro was auctioned off on eBay Motors, with the proceeds going to SEMA's Memorial Scholarship Fund which supports students who are interested in pursuing a career in the aftermarket industry.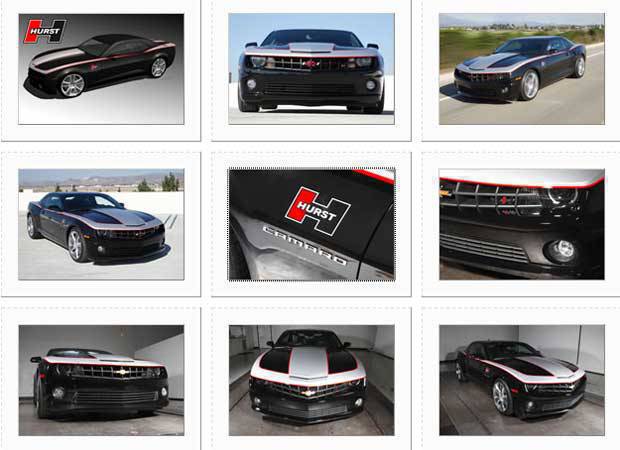 2
. With America's love for Ford's Mustang, it's not surprising that at least
eight customized
2010 Mustangs
from top-notch tuning outfits like 3dCarbon, Galpin Auto Sports, H&R Springs, and Steeda are taking the floor at the SEMA Show.
"The Mustang is an iconic car," said Melvin Betancourt, Ford SEMA design manager. "People always want to reinvent it, and everybody has an idea about what the next Mustang should be."
Despite the abundance of Mustangs on the floor, Ford Vehicle Personalization has its own customized Mustang on display, packed with Ford Custom Accessories, a unique Carbon Black Metallic custom-colored exterior accented with satin gold 20-inch wheels and gold-tinted headlights and fog lamps. The gold theme continues inside the cabin with gold leather seat and door trim inserts, seat piping, steering wheel cover and shifter boot.
3
. When Hyundai launched the Genesis Coupe early this year, the tuner market salivated at its tuning potential, proof positive of which is the abundance of this two-door sports car competing in different motorsport disciplines from drifting to time attack runs to hill-climbing events. To cater to those who want their
Genesis Coupe tuned to its maximum potential
, Hyundai will be came up with a stripped-down Genesis Coupe R-Spec.
Derived from the 2-liter Track model, the R-Spec throws away all the "non-essential" bits to reduce the car's weight and price, like Bluetooth, automatic headlights, cruise control, trip computer, chrome interior accents and steering wheel audio controls. Instead, the car gets a track-tuned suspension, 19-inch gunmetal-finish alloy wheels with performance tires, Brembo braking system, Torsen limited-slip differential and R-Spec badging. As a special nod to tuners, the R-Spec gets a set of front strut camber adjustment bolts to enhance its initial turn-in and handling response even further. The exterior is also left bare, leaving it up to the customer to fit whatever aero kit they think can enhance their R-Spec's performance.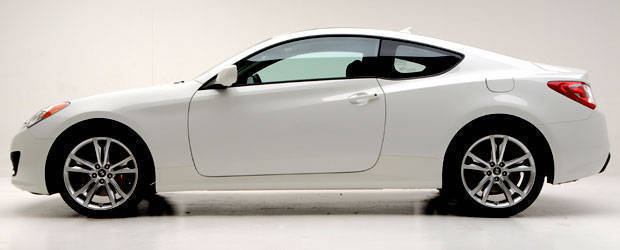 Click next to check out more cars at the SEMA

4. If you're one of those that think Lexus' IS 350C is a convertible that's best suited for metrosexuals, Fox Marketing is bound to change your perception with their supercharged version of Lexus' hard-top convertible.

Using a ProCharger C2 blower, the IS 350C's 306-brakehorsepower engine gets boosted up to 405 horses, with a Yonaka intercooler keeping it in check. Since F-Sport is Lexus' own tuning arm, Fox Marketing's IS350C gets F-Sport-sourced 14-inch brake discs that are partnered with six-piston calibers up front while an F-Sport exhaust adorns the rear. Over-the-top treatment like the Foxy Green paint job, side skirts, grilles, badges and a two-inch fender flare up front round up the entire package on its SEMA debut.

Continue reading below ↓
Recommended Videos

5. As if to show that everything's well and good after the company went into bankruptcy, Chrysler is showcasing four Mopar Image Vehicles at the show. Of the four, however, the definite scene-stealer is the Mopar Jeep Lower Forty.

Using a stock, two-door Jeep Wrangler Rubicon, Mopar mounted massive 40-inch tires on the vehicle's 20-inch forged-aluminum wheels, boosting the vehicle's ground clearance without lifting the suspension. Helping add an aggressive streak to its already menacing look, Mopar chopped three inches off of the windshield frame and raked it down by ten degrees. Mopar then added a one-piece carbon fiber hood with a Jeep CJ-like powerdome, a drop-down tailgate stamped with Jeep's logo, and a custom-made bikini top from Bestop to shroud the cabin from the heat.