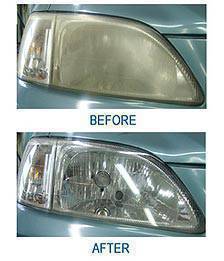 Seeing the road clearly on rainy nights is a must so it's good to know that Honda Cars Philippines, Inc. is now offering a headlamp restoration service.
Plastic headlamp lenses turn yellow and cloudy over time due to exposure to ultraviolet rays, smog, acid rain, chemicals and other harsh elements.
Plastic oxidation poses danger when driving at night as hazy lenses impair vision and reduce the viewable distance, thereby delaying the driver's reaction to possible road hazards, Honda said. Studies also show that better visibility improves driving response time up to a full second or more. At highway speed, this equates to almost four cars-lengths of extra stopping distance.
Continue reading below ↓
Recommended Videos
While most shops only polish headlamp lenses, Honda's headlamp restoration service includes a re-application of a specially formulated UV protective coating cured using infra-red drying equipment to shield lenses from harsh sunlight.
Honda Cars Philippines' headlight restoration service is initially available in Honda dealers in Quezon City, Kalookan, Manila, Cavite, Laguna, Batangas, Pangasinan, Tarlac, Isabela, Nueva Ecija and Ilocos Norte at an introductory price of P1,400. The regular cost of Honda's headlamp restoration service is P2,400.