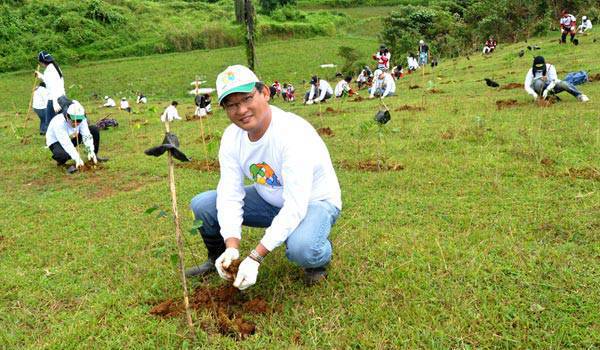 Some carmakers try to demonstrate their environment-consciousness by bringing into our market their hybrid vehicles. Others--like Japanese carmaker Honda--still choose to do it the old-fashioned way (by planting trees, for instance). Over 110 volunteers from Honda Foundation Inc. (HFI); Honda's clientele, dealers and suppliers; and the motoring media recently revisited Cavinti, Laguna, to plant 2,500 tree seedlings of native species to help rehabilitate the Caliraya Watershed. HFI--which consists of Honda Cars Philippines Inc. (HCPI), Honda Philippines Inc., Honda Parts and Manufacturing Corporation, and Honda Trading Philippines--has partnered with the Haribon Foundation to support the "Road to 2020" project.
"Road to 2020" is an environmental conservation movement that aims to restore one million hectares of Philippine rain forests by the year 2020 by using native tree species. The project raises awareness on the critical situation and the deforestation of the country's watersheds. According to Haribon, 54 percent of forest cover is needed to regulate ecological processes. However, the country is down to only 24 percent as per DENR statistics in 2004. The Caliraya Watershed needs proper attention as it provides water supply not only for drinking but also for power generation.
"Honda has always been a devoted supporter of tree-planting projects, and Haribon's 'Road to 2020' is the most recent one," said HCPI president and general manager Tatsuya Natsume. "The Honda group of companies has pledged to rehabilitate 20 hectares of denuded land in the span of 10 years. So far, we have already covered three hectares with the help of our dear volunteers. Globally, Honda aims for a 30-percent reduction in carbon-dioxide emissions from Honda products by year 2020, as compared to 2000 levels. This is in line with our longtime commitment to leave 'Blue Skies for our Children'."
Continue reading below ↓
Recommended Videos
HFI will conduct a series of tree-planting activities to rehabilitate the remaining 17 hectares. If you feel like offsetting the carbon footprint of your CR-V or Accord, you may take part in this campaign. For more details, you may visit www.hondaphil.com, HCPI's Facebook page, or any one of Honda's 28 authorized dealerships nationwide.