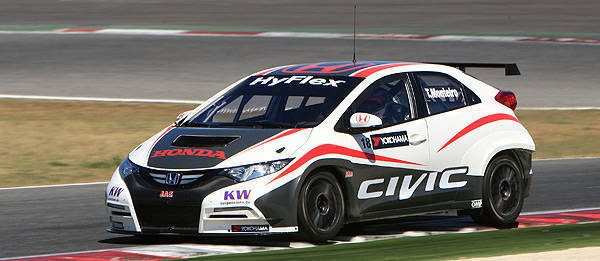 Honda has unveiled its Civic race car that will compete in the World Touring Car Championship (WTCC). While the European-market model is very different from the one that's sold in North America and Asia, we're sure you're still interested to know what it looks like and what it is packing.
The 2012 Civic WTCC race car is the result of extensive wind-tunnel testing, and features an extended front and rear skirt and other additional aerodynamic elements. Combined, the Civic's smooth air flow supposedly gives it a drag coefficient value that, though unmentioned, is claimed to be the best in its class for a compact, five-door hatchback.
Powering the Civic WTCC is a completely bespoke, 1.6-liter, four-cylinder, direct injection turbocharged engine that fully conforms to the FIA regulations for the racing series.
Starting at Suzuka in October, Honda will enter three races of the 2012 season with one car being driven by ex-Formula 1 driver Tiago Monteiro. All of the 2012 testing and race results will then be fully utilized to further develop the Civic WTCC for one full season in 2013, where Monteiro will be joined by 2009 WTCC champion and the Civic WTCC's development driver, Gabriele Tarquini.
ADVERTISEMENT - CONTINUE READING BELOW ↓
"To see the finished Civic finally on the racetrack is an extremely emotional moment for the whole team," said Honda Racing Team JAS team principal Alessandro Mariani. "The initial track testing has already provided us with a lot of feedback and data, but the road to Suzuka in October remains a long one. This isn't the end. It's just the beginning. From here, we will make ourselves even busier."
ADVERTISEMENT - CONTINUE READING BELOW ↓
Recommended Videos