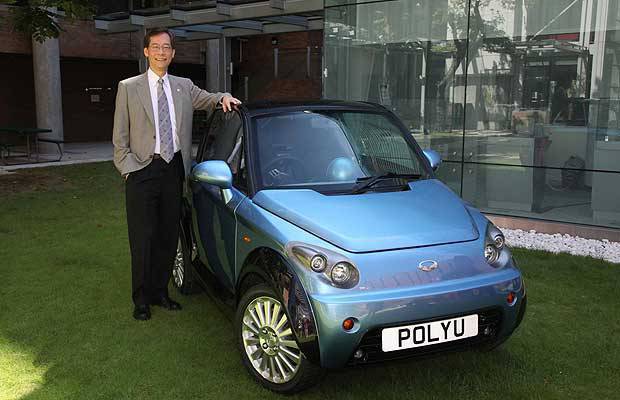 Are you an eco-minded individual who fancies having an electric car to help spread your cause but finds the cost of owning a
Toyota Prius
, much less a
Mercedes-Benz S 400 Hybrid
, exorbitantly expensive? Then Hong Kong's mycar should pique your interest.
mycar was developed by the Hong Kong Polytechnic University (PolyU) and EuAuto Technology Limited (EuAuto) using a body was designed by renowned Italian car designer, Giorgetto Giugiaro. It has obtained the World Manufacturer Identification Code and is already on sale in European countries like the United Kingdom, Italy, France, Denmark and Austria. This makes the mycar not only the first Hong Kong-developed vehicle to go on sale in the international market, but also the first that fully complies with stringent European standards.
mycar also meets the roadworthiness requirements set by Hong Kong Transport Department and has been classified as a private car on the condition that it runs no more than 50 kilometers per hour.
The mycar electric vehicle can run 110km of flat road and can reach a top speed of 64kph on its fully-charged batteries. Charging its batteries take six to eight hours with any household socket.
The price of mycar is enough to make one give it a double-take at HK$97,000 or almost P588,000 but the Hong Kong Special Administrative Region further makes it an attractive acquisition with a First Registration Tax Waiver an and a reduced annual vehicle license fee of HK$440 or roughly P2,700. This is a bargain compared with the license fee on private cars is at least HK$3,929 or almost P24,000.
"The development of mycar has truly testified to the practical value and commercial potential of PolyU's R&D pursuits," said PolyU president Prof. Timothy Tong at the unveiling ceremony of mycar on October 23. "Not only does mycar go in line with the Government's policy address in promoting the use of electric vehicles, but also turns over a new leaf in pioneering the advancement of Hong Kong's automotive industry."
Besides praising Giugiaro's design and its strategic partnership with PolyU, EuAuto chairman Peter Sun also thank various industry partners from Italy, France, UK, Canada, Australia, Philippines, China and Hong Kong in the development of mycar.
ADVERTISEMENT - CONTINUE READING BELOW ↓
ADVERTISEMENT - CONTINUE READING BELOW ↓
Recommended Videos