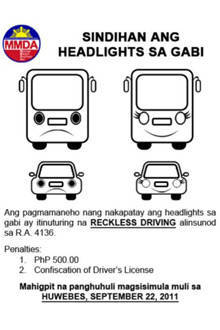 Over a hundred motorists were caught on the first night the Metropolitan Manila Development Authority (MMDA) re-intesified its campaign against those who are driving without turning on their headlights.
The MMDA said a total of 163 violators were caught on September 22 alone. They were mostly taxi drivers who were apprehended in major thoroughfares like Edsa, Commonwealth Avenue, C-5 Road, Ortigas Avenue, Nagtahan, Aurora Boulevard and Marcos Highway.
MMDA chairman Francis Tolentino said operating a motor vehicle at night without turning on its headlights "constitute reckless driving." This violation carries a fine of P500 for first offense, P750 for second and P1,000 for third.
Continue reading below ↓
Recommended Videos
"Night driving without headlights is dangerous," MMDA chairman Francis Tolentino said. "We have to remind the public that it is prohibited under the law, for everybody's safety."
He added that motorists who continue to disregard the law on using headlights may face revocation of their driving license.
To ensure that your headlights are working, check them before you leave your garage. When you follow these tips, you do not just avoid getting a citation from the MMDA, you also help prevent potential accidents caused by low visibility due to driving without headlights.
Here are more tips from Tolentino to avoid getting into an accident:
1. Check your headlights' condition regularly.
2. Clean your headlights once a week, especially after it rains.
3. Have a mechanic aim your lights properly.
4. Be careful in using your high beam so you don't risk blinding other drivers.