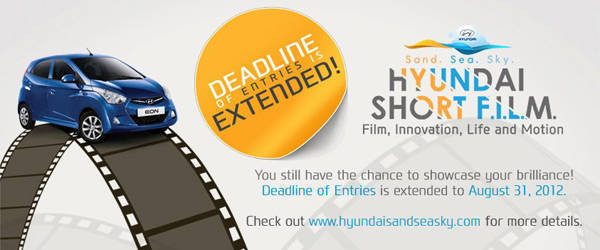 Hyundai, through its Philippine-market distributor Hyundai Asia Resources, is inviting young and aspiring filmmakers to get the chance to interact with internationally renowned filmmaker and Cannes Film Festival best director awardee Brillante Mendoza by submitting a 15-second video entry to the Hyundai Short F.I.L.M. (Film, Innovation, Life and Motion) competition.
The entries should have the theme: "What makes you brilliant?"
(HARI sent us the announcement just today, which is weird because the original deadline, as stated on the contest website, was August 22, which the company is apparently extending today to August 31. Sounds like the contest didn't get enough entries, which doesn't surprise us if the contest was indeed not announced properly.)
Participants will also get the opportunity to produce their own short film to be shown on the big screen and win cash prizes as well.
According to the Korean carmaker, the Hyundai Short F.I.L.M. is a contest that "challenges young and aspiring filmmakers to create innovative films that speak of their lives." In addition, besides serving as an avenue to express ideas and recognize talent, the filmmaking contest gives outspoken youngsters an opportunity to shine in the field of filmmaking.
"It also highlights Hyundai's new global market branding--Live Brilliant," Hyundai said in a statement. "This competition will enable participants to imagine and actually experience how a Hyundai vehicle becomes an important space where some of life's most memorable and poignant moments happen."
Continue reading below ↓
Recommended Videos
The extended deadline for the submission of entries is August 31, 2012, at 5pm. Contestants can register by downloading a registration form at www.HyundaiSandSeaSky.com and submitting their entries in two DVD copies together with the printed copy of their accomplished registration forms. Materials should be submitted to the HARI office on 11th floor, KPMG Center, 6787 Ayala Avenue, Makati City, or to a school's official partner organization.
To know more about Hyundai Short F.I.L.M., the mechanics, and the list of partner school organizations, interested participants are encouraged to visit the contest website or get updates by liking the Hyundai Sand.Sea.Sky Facebook page.