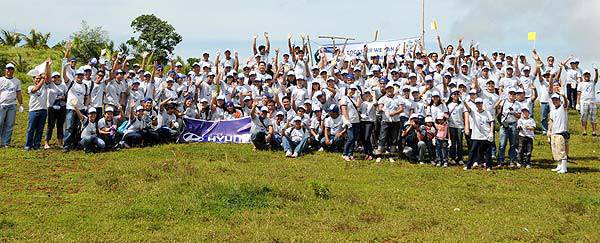 Close to 200 volunteers gathered by Hyundai Asia Resources (HARI) braved the heat early this month to participate in the Korean carmaker's tree-planting activity with Haribon Foundation.
Hyundai employees, vehicle owners and dealers went on an eco-road trip from Hyundai's headquarters in Makati to Cavinti, Laguna for a day of planting trees.
"Unlike Hyundai's usual vehicle fun runs and out-of-town test drives, this eco-road trip was an all-new, life-changing experience as this activity served as a series of three primary green missions for the future: reducing the levels of pollution in the air, creating new habitats for some of the Philippines' endangered species, and restoring the watersheds of Lake Caliraya, one of the country's famous man-made reservoirs located just beside the tree-planting site," Hyundai said in a statement.
The tree-planting activity is part of Hyundai's PRO Environment Campaign, a project aimed at allowing the carmaker to plant 20,000 seedlings in key areas in the Philippines this year. Hyundai held its first tree-planting program in February. The program supports Haribon's advocacy to reforest one million hectares of denuded lands by 2020.
"With its strong commitment for its PRO Environment campaign, HARI and all its partner advocates in saving the planet continue to merge in an all-out force in the fight for the environment," Hyundai said. "Truly, Hyundai does not only lead the forefront of the automotive industry, but also the worldwide advocacy to shaping the future into a much better place for the next generations to come."
Continue reading below ↓
Recommended Videos
Photos and captions from Hyundai Asia Resources
[gallery]664[gallery]