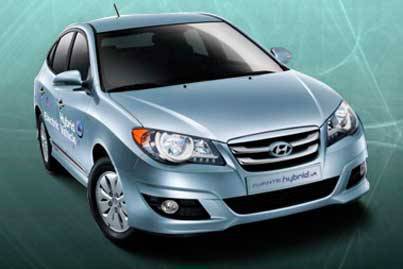 Hyundai Motor Co. is taking hybrids to a different level with its first green car running on kitchen gas and rechargeable batteries.

The Elantra LPI HEV, which was unveiled at the recent Seoul Motor Show, runs on liquefied petroleum gas (LPG) and rechargeable lithium ion polymer batteries. The vehicle will be commercially available exclusively to the Korean market as the Hyundai Avante by July.

"The Elantra LPI HEV is a prime example of Hyundai innovation: We have leveraged our world leadership in LPG-fueled vehicles to develop a hybrid that will be very economical to operate," said Dr. Lee Hyun-Soon, vice chairman and chief technology officer of the Hyundai-Kia corporate research and development division.

Hyundai's hybrid runs on a 1.6-liter Elantra Gamma engine fueled by liquefied petroleum, making it the first of its kind. It is equipped with an electric motor and a continuously variable transmission that allows the car to churn out a fuel economy rating of 17.2 kilometers to a liter. This makes the Elantra LPI HEV 41.4 percent more fuel efficient than its 1.6-liter automatic-transmission, petrol-powered counterpart. The Elantra LPI HEV's power peaks at 105Nm and the max torque is at 125Nm, giving it a peak efficiency of over 95 percent.

Using rechargeable lithium ion batteries makes the Elantra LPI HEV more cost efficient while it enjoys higher energy density. According to Hyundai, this type of batteries take more charge-discharge cycles before its storage capacity weakens. To assure the public that the carmaker has done its homework on the battery's safety aspect, Hyundai subjected lithium ion polymer batteries to a 300,000-kilometer durability test, as well as tests on overcharging and collision safety - all of which it passed.

Further focusing on environmental concerns, Hyundai said the Elantra LPI HEV emits just 102 gram per kilometer of of carbon dioxide. Its emissions are 90 percent fewer compared to that of an equivalent standard gasoline-powered Elantra.

While Hyundai has said that initial sales of the Elantra LPI HEV are limited to the Korean automotive market by the middle of the year, the carmaker also hinted at exporting it to countries where liquefied petroleum gas (LPG) is readily available for motorists. With the abundance of LPG service stations mushrooming all over the metropolis lately, only time and demand will tell if Hyundai Asia Resources, Inc. (HARI) will bring over the hybrid Elantra to Philippine roads soon.
Continue reading below ↓
Recommended Videos