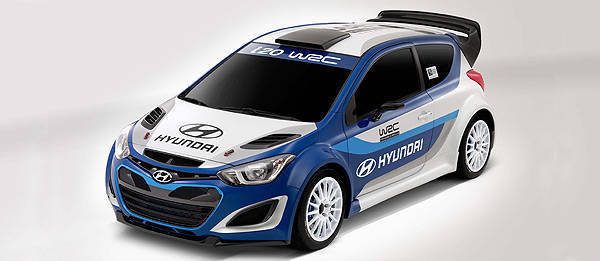 Hyundai is poised to return competitively to the World Rally Championship series as the Korean carmaker reveals a rally-ready version of its i20 subcompact hatchback.
Hyundai's involvement in WRC started in 1998 when it competed in the racing series' F2 class for two seasons. In 2000, the Korean stepped up to top class, rallying a fully developed WRC car based on the three-door Accent, which competed until 2003. Following its withdrawal from motorsports that year, Hyundai's long-term goal was to set up an in-house WRC team in Europe and develop a performance rally car, resulting in the WRC i20 you see here.
"The World Rally Championship is recognized as one of the most dramatic sporting series on earth," said Hyundai Motor Europe marketing director Mark Hall. "The WRC also offers the most technologically diverse challenge for an automotive manufacturer. Our participation will demonstrate Hyundai's engineering excellence and durability, and will also help to enhance our passenger vehicles in future."
How do you think Hyundai will fare this time around?
Continue reading below ↓
Recommended Videos