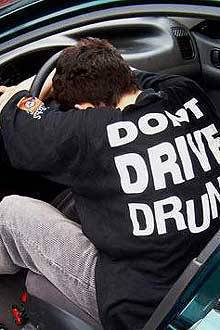 Japan-based automotive safety product supplier Takata is reportedly working on a device that can check a driver's blood-alcohol level through touch alone, the Detroit Free Press reported.
According to Kirk Morris, Takata's vice president of business development, the company is developing a device that uses an infrared sensor to determine a driver's blood-alcohol level with the help of TruTouch Technologies, a company that specializes in noninvasive alcohol testing systems. The blood-alcohol tester is currently as big as a breadbox and Takata is working to repackage the device so it can fit a car's push-start button.
Aside from resizing, Takata is also working on decreasing the system's processing time from several seconds to just 200 milliseconds, and allow it to function from roughly 4 below to 30 degrees Celsius with different humidity and vibration levels. The system is supposedly as accurate as that of a blood test and that Takata hopes to get the cost of the system down to roughly $200 per unit.
"The goal is to take impaired drivers off the road," Morris said in the report. "Breathalyzers are invasive. You have to blow into a tube. If this technology is to be used on a daily basis, we want it to be noninvasive, not intrusive. ... Drivers pushing a button wouldn't even know it's there."
Continue reading below ↓
Recommended Videos
The system is valuable enough that the Automotive Coalition for Traffic Safety (ACTS) has given Takata and TruTouch a $2.25-million grant to make the device commercially viable.
The National Highway Traffic Safety Administration (NHTSA), which has a five-year, $10-million joint initiative with ACTS called the Driver Alcohol Detection System for Safety, praised the project, saying that it "is seen as a potential tool for keeping drunk drivers from being able to operate their car" and that the system "could be voluntarily installed as an option for new cars and signal a new frontier in the fight against drunk driving."