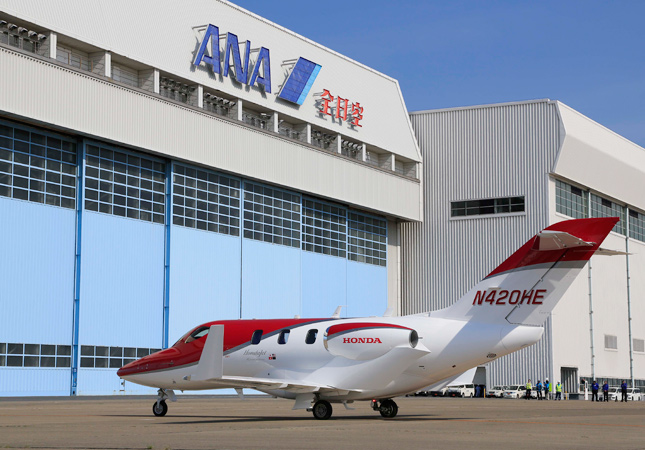 There is no doubt that Honda Motor Company has already conquered terra firma, so now the Japanese carmaker wants to reign in the clouds.
On April 23, Thursday, Honda organized a press conference at Tokyo International Airport (otherwise known as Haneda Airport) to announce the 48,000km world tour which the HondaJet is embarking on. The HondaJet is the light business aircraft developed by Honda Aircraft Company, a subsidiary of Honda. During this world tour, the HondaJet is set to make stops in more than 13 countries.
"Entering into the aircraft industry, which adds a third dimension to our mobility products, was a dream of our company founder, Soichiro Honda," said Honda Motor Company president and CEO Takanobu Ito. "Striving to realize our dreams, Honda took on unprecedented and long-term challenges to develop both the jet engine and the aircraft fuselage on our own. Honda is proudly presenting the HondaJet, equipped with the HF120 GE Honda new-generation turbofan engine, which will carve out a new set of standards for the performance and comfort of a light business jet. Honda's corporate slogan is 'The Power of Dreams'. We want to realize the joy and freedom of mobility and a sustainable society where people can enjoy life in the sky as well. Moreover, Honda wants to continue to be a mobility company that takes on bold challenges for new technologies in the areas of motorcycles, automobiles, power products, robotics, hydrogen and aircraft."
Continue reading below ↓
Recommended Videos
Before going on the world tour, the HondaJet will first be flown around Japan. It will perform flight demonstrations at the following airports:
* April 25 - Sendai Airport
* April 26 - Kobe Airport
* April 29 - Kumamoto Airport
* May 2 and 3 - Kounan Airport (Okayama prefecture)
* May 4 - Narita International Airport
Needless to say, Honda is about to reach new heights.