1) Volkswagen Golf GTI Mk8
So far we know the square root of bugger-all about the new Mk8 GTI, other than the fact it's definitely happening. We can't see VW straying too far from the tried-and tested formula, though, so expect front-wheel drive, properly usable performance and somewhere around 250hp to keep up with the number-obsessed competition.
There'll be subtle styling tweaks from the standard Mk8—think some form of roof spoiler, slightly bigger wheels, and the trademark GTI red strip across the nose. Also, tartan interior or we riot. It may be predictable, but you don't build a reputation like the GTI's with radical change every few years. Like most of the buying public, we absolutely cannot wait for this one.
2) BMW M2 CS
ADVERTISEMENT - CONTINUE READING BELOW ↓
The M2 CS is a 444hp monster that's aiming to send this generation of 2-Series Coupe off into the stars with a big, fat powerslide. Oh sure, BMW trumpets its 'class-leading' handling.
But mostly: twin-turbo 3.0-liter straight-six, manual gearbox and rear-wheel drive. Top speed will be 280kph, and you'll get 27.7mp– oh what the hell, you're not looking at mpg. You're looking at skids.
3) Mini John Cooper Works GP
Yes, almost £35,000 (P2.35 million) for a Mini is a lot. But just look at those wheel arches. Good lord. Under the hood will be the 2.0-liter four-cylinder from the BMW M135i, although here it'll transfer 302hp through the front wheels only.
There'll also be a 40mm wider track and overhauled suspension compared to the standard JCW. Mini tells us that, during development, the GP clocked a sub-eight-minute Nu?rburgring lap time.
4) McLaren Elva
ADVERTISEMENT - CONTINUE READING BELOW ↓
Recommended Videos
The Elva is a described as 'a ferociously fast open-cockpit car' that will fit into McLaren's Ultimate Series alongside the Speedtail. The engine is an 804hp version of the 720S's twin-turbo 4.0-liter V8, but there's less weight to shift.
Apparently, it'll hit 100kph in under three seconds and 200kph in 6.7sec—that's about as quickly as the legendary McLaren F1 hit 161kph.
5) Ferrari Roma
It may seem rather full already, but the Roma will plug a sizeable gap in Ferrari's range. Critics will tarnish it with the 'just a hard-top Portofino' brush, and it's true that the two share the same platform and 3.9-liter twin turbo V8. However, the Roma gets more power, an eight-speed gearbox from the SF90 and 73 fewer kilograms. And just look at those lines. Ooof.
6) Tesla Cybertruck
ADVERTISEMENT - CONTINUE READING BELOW ↓
Been grumbling that Tesla's cars look amorphously soft-edged? This'll learn you. Here's the Cybertruck. It's due down the lines from late 2021. Or, once they've got the Model Y into production. And the Semi. And the Roadster. Okay, okay, Tesla's always late but always gets there in the end.
As usual, there are several battery and motor options, up to a tri-motor AWD spec, for 0-60mph in 2.9 seconds. That one claims 800+km range when driven more moderately, and a 1,500kg load. A base 400km rear-driver will follow. Otherwise, details are scarce and there will be some changes—assume they'll add screen wipers. But you can put down a £100 deposit now, and RHD is "late 2022".
Suspension is by air, so it'll kneel for loading, and elevate for off-road ground clearance. Those rear buttresses inhibit loading over the sides, but there's a roll-top cargo lid between them, so it's a secure load bay. The cabin seats six.
Now, the styling. Is being different per se a risk? Nope. Impersonating the US big three's trucks is a hopeless errand. Toyota shifts a solitary Tundra for every eight Ford F150s sold. So we see Esprit/Countach echoes, although here the triangulated edginess is all about the strength of the 'exoskeleton'. The flat panels are made of armor-strong steel, to resist dents.
If they weren't flat they wouldn't need to be as strong, and that would make it a lot lighter. Hope Autopilot's working well: wouldn't want to be hit by one. But without that steel, Tesla couldn't call it bullet-proof. It's like the 'bioweapon defense mode' in the Model S. Tesla claims to be saving the world, while preparing for a dystopian end of days.
7) Aston Martin DBX
The DBX isn't just another new Aston, it's a potential lifeline for a company with its stock price tumbling. It's based on a new bonded aluminum platform, offered—initially—with a more powerful 542hp version of the Vantage's 4.0-liter twin-turbo AMG-sourced V8 and it's the first car to be built in Aston's shiny new factory on a former RAF base in St Athan, Wales. Failure here isn't really an option.
Call it how you see it, but we think of the growing super-SUV crowd the DBX is the most harmonious shape of the lot. Should be a 'proper' Aston to drive, too—0-100kph in 4.5 seconds, top speed of 291kph, air suspension as standard and a similar 48V antiroll system to the Bentayga and Urus.
ADVERTISEMENT - CONTINUE READING BELOW ↓
Prices start at £158,000 (P10.6 million), which is a lot, but our concern is whether the world of super SUVs has already reached saturation point? For Aston's sake, let's hope not.
8) Polestar 1
This is the first car from Volvo's luxurious, performance-orientated future-thinking offshoot, Polestar. Not to mention the owner of the most straightforward name imaginable. The 1 is likely to be the most expensive car the firm will ever build, and the only hybrid. The cars which follow it—including, predictably, the Polestar 2—will be fully electric.
Yes it costs £139,000 (P9.34 million), which alongside its power (600hp) and weight (2,350kg) are some pretty big numbers; but here's a small one—only 1,500 will be sold globally. Rivals include the Bentley Continental GT, Mercedes S-Class Coupe, and BMW 8 Series on paper, but in reality it does things entirely differently with a four-cylinder turbo and supercharged engine supporting the batteries and motors that deliver a proper 153km EV-only range.
9) Porsche 911 Turbo
The common-or-garden 911 Carrera is turbocharged these days. And it's blindingly fast. How will the new Porsche 911 'Big-T' Turbo distinguish itself? Well, by offering senior supercar performance with usable back seats and tediously predictable everyday brilliance.
We're expecting 650hp from the 3.8-liter bi-turbo flat-six engine, four-wheel drive, seamlessly paddle-shifted double-clutched gears, and a 320+kph top speed. And 4x4 911 Turbos are famously good at the launch sprint too. This one should see off 0–100kph in under 2.7sec.
Spy shots reveal a somewhat squared-off jawline and the fixed wing is more of a classic ducktail this time (nice), but overall this is still a super-subtle supercar. Price a bit steep? Then stay tuned for the return of a proper flat-six engine to the regular Boxster and Cayman, before they go fully electric.
ADVERTISEMENT - CONTINUE READING BELOW ↓
10) Jaguar XJ
Jaguar has proven it can make an electric car that's at least as practical and better to drive than the Germans. Now it needs to do it again. And again. The next salvo? An all-electric super-limo with style a Tesla couldn't hope to match: the new XJ. An enormous floorpan battery will unlock daring proportions, huge cabin space, and a low center of gravity, but next-gen limos are more about the robo-drive, mega-luxe tech than how plush the ride is. Question is, can Jaguar's computers compete?
11) Land Rover Defender
Land Rover nailed mission number one: making sure the new Defender wasn't overly cute/retro/gentrified/yokel. Or dull. The remaining questions are how well it drives (nothing to worry about if the Velar and Evoque are anything to go by), which accessory packs to spec (all of 'em), and if there's room in Land Rover's family for this, the Evoque, the Disco Sport and the Discovery to coexist...
12) Lexus LC Convertible
Drink it in, fellow dinosaurs: how many more RWD naturally aspirated V8 droptops do you think the world's gonna see before the oil tap gets turned off? The LC is a truly abstract curio: a soulful sporting cruiser, filling the void left by Maserati's ancient GranTurismo. And now, it's got a soft-top. Two tons, sadly, but what a wafter. Best sampled in LA, we predict.
ADVERTISEMENT - CONTINUE READING BELOW ↓
13) Pininfarina Battista
Are you fussed by electric hypercars with two-ton kerb weights and two-second nought-to-sixties? We're not convinced, either. But 2020 is the year the hyper-EV arms race goes full Large Hadron Collider. Ahead of Rimac and Lotus's 1,900+hp ripostes, Italy's famous styling house is first, with a (Rimac-sourced) quad-motor, 1,874hp, 2,534Nm missile. Not in a hurry? Expect a 450km range…
14) Ferrari SF90 Stradale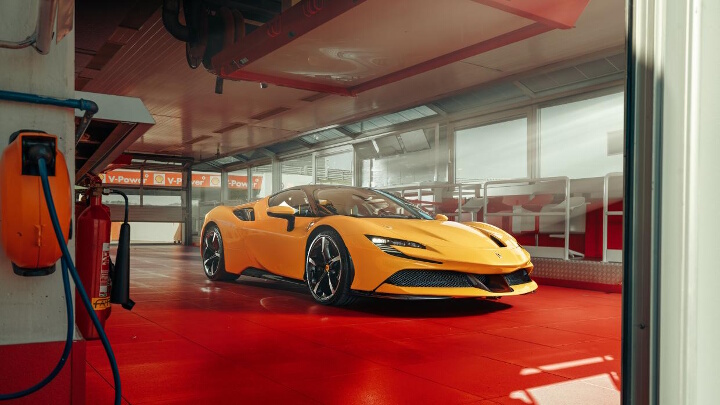 Important thing, the SF90. Mainly because it's Ferrari's first plug-in hybrid. The fastest series-production Ferrari uses a heavily revised twin-turbo V8 giving 769hp and three e-motors for a combined 986hp, 0–200kph in 6.7sec and 24km of pure-electric range. Two of those e-motors are on the front axle, meaning the SF90 is also Ferrari's first AWD two-seater sports car. It also gets a brand-new HMI, some very clever aero and idiot-proof driver assistance systems.
15) Ford Bronco
The Bronco was a rugged, traditionally two-door SUV first released in 1965. In 1969 it won the Baja 1000 outright in fairly epic fashion, and remains to this day the only four-wheel-drive vehicle to have done so. Five decades later, Ford is preparing to bring the Bronco back, after it killed the name in the mid-'90s when people stopped buying two-door SUVs.
ADVERTISEMENT - CONTINUE READING BELOW ↓
The new one, which will have a so-far unspecified number of doors, is coming in Spring 2020. Rumor has it it'll share a platform with the Ranger pickup and could have a removable roof and doors. The Bronco has already had a crack at Baja—the Bronco R, which is based on a modified version of the eventual production car's platform, failed to finish. But it'll be back next year for another go.
16) Corvette C8
The biggest news this time is that after decades of speculation, Chevy has finally made the Vette mid-engined. The big 6.2-liter nat-asp V8 sends 495hp to the rear wheels via an 8-speed automatic. Supposedly it's good for 0–60mph in 3.0sec.
17) Honda e
Finally, after being revealed in concept form at the Frankfurt Motor Show way back in 2017, in 2020 the Honda e will finally arrive. The good news is it looks quite a lot like all the concepts, with its cute face, camera mirrors and screen heavy interior. The bad news is that it doesn't have much range—just 219km. But does that matter, in a car designed first and foremost for the city?
18) Toyota GR Yaris
ADVERTISEMENT - CONTINUE READING BELOW ↓
A Yaris. Not so much the last car to drive before you die as the last car you'll drive, before you die. But, this is a Yaris by Gazoo Racing, the motorsport skunkworks embedded in the Toyota mothership. The spec is preposterous. There are Russian Olympians less outrageously enhanced. The whole shell is bespoke, hunkered down and brooding. The roof—made of forged carbon fiber—lies 95mm lower, so the back window's a letterbox and the twin rear seats are useless.
Beneath hulking shoulders, blistered wheelarches just about contain a wider track. There's full-time four-wheel drive—the lightest system on the market. Tick the optional Circuit Pack and along with stickier tires on forged BBS wheels, the twin differentials learn limited-slip and torque-vectoring, Only one gearbox choice, though: a manual, hooked up the smallest, lightest 1.6-liter engine in the world, shoved back an extra 21mm in the chassis. To mesh with R5 rally rules, it's a three-cylinder turbo, developing around 260hp and 353Nm. Currently, there's nothing on the planet to rival it.
19) McLaren Speedtail
Sleek, isn't it? Long and low and lean and, well, sleek. A streamliner. This is the McLaren Speedtail, the car being referred to as the spiritual successor to the F1… although Gordon Murray and his T.50 might have something to say about that. Three seats, a 400kph top speed, 1,036hp from its V8 and electric motors, and a price tag of around £2m (P134.43 million). Subtle the Speedtail is not, but it is different to anything else currently out there in the limited-run multi-million pound hypercar market.
Deliveries of the 106 cars are about to begin, Chris Harris might even have had a go in one (watch this space), but the beauty of the Speedtail is you don't need to drive it to appreciate its elegance. If you are lucky enough to strap yourself into the center seat, line up on a runway, press the Velocity button above your head, and nail the throttle, you'll feel what it's like to accelerate from zero to 300kph in the same time it takes a diesel supermini to hit 97kph.
NOTE: This article first appeared on TopGear.com. Minor edits have been made.