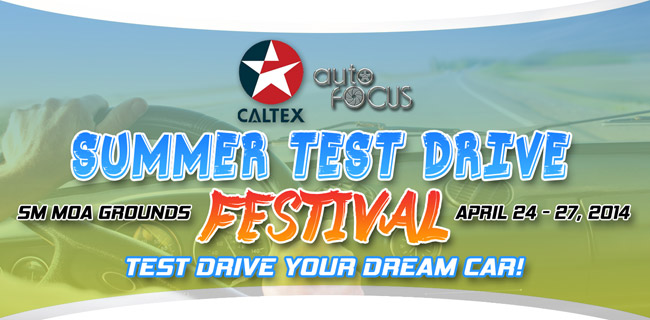 Car shows are now very common in the country. From big events (Manila International Auto Show and Philippine International Motor Show) to small ones (school and mall displays), automotive expos are now a regular part of our car culture, entertaining gearheads and helping car-shoppers in their decision-making along the way.
The problem with car shows, however, is that visitors can only look at (and sometimes touch) the vehicles. When trying to decide which car to purchase, a customer needs more than visual appreciation of the cars on his/her short list. A test drive is a must, in other words. Sure, the bigger motor shows now include test-drive activities usually held outside the main exhibition hall, but these don't always feature all the brands and are often limited in scope.
What if there's a pro-consumer event that is 100% dedicated to test drives?
Enter the first-ever Auto Focus Summer Test Drive Festival, which opens today, April 24, and runs until Sunday, April 27, at the SM Mall of Asia concert grounds. "Test-drive your dream car," says the event's slogan.
ADVERTISEMENT - CONTINUE READING BELOW ↓
A total of 13 car brands are participating in this event: BMW, BYD, Chevrolet, Ford, Honda, Hyundai, Isuzu, Kia, Lexus, Mitsubishi, Nissan, Peugeot and Toyota. This means that, if the cars you're considering are made by any of these brands, all you have to do is go to the event and conduct your crucial test-drive evaluation in one go.
What are the mechanics of this test-drive event?
According to the event's organizer, Sunshine Television, "visitors have the option to drive around the Mall of Asia's test-drive route or at the test-drive course inside the venue where the vehicles will go through a test track designed to bring out their best or worst via a series of chicanes, humps and parking slots."
There will also be a "precision driving competition" for those who are inclined to join. Competitors will be timed and the one that comes closest to the prescribed lap time wins. A final round featuring winning qualifiers will be held on the last day of the four-day event. Prizes range from Caltex fuel cards to other valuable items.
ADVERTISEMENT - CONTINUE READING BELOW ↓
Recommended Videos
So, you know where to go this weekend if you're serious about your car-shopping.