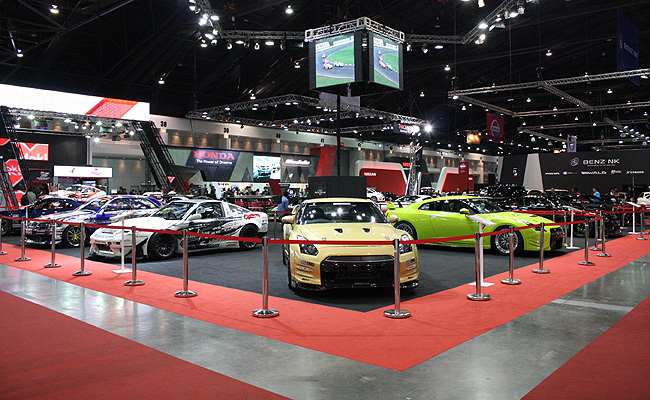 The 2014 Bangkok International Auto Salon will continue as scheduled from June 19 to 29 at Challenger Halls 2 and 3 of the Impact Muang Thong Thani complex just outside of Bangkok. That's despite the recent martial law declaration in Thailand.
According to Duangkamon Isarapandh, the strategic communications director of Inspire Entertainment, the organizer of the event, the declaration of martial law by the Thai army was done "to restore peace and order for people from all sides in order to keep peace and bring back order to the country."
"There is no curfew in place in Thailand," Isarapandh told TopGear.com.ph. "Actually, Thai people live their lives as usual. People go to work and students go to their schools as normal."
The Bangkok International Auto Salon is dubbed as the largest show of its kind in the ASEAN region. Now on its third year, the latest custom cars and tuning technologies from Japan will be on display at the show. Some of the highlights at this year's show are the Toyota/Kuhl Artis and Kuhl Racing 86 Japan Project, the Honda/Blitz Fit RS Turbo concept, the Mazda/RE Amemiya Street 7-3 Rotor 20B, the Nissan LB Works 35 GT-R, the Subaru/Blitz Racing Project BRZ, the Lamborghini/LB Performance Works Murcielago, and the Mitsubishi i-MiEV Evolution, which is an all-wheel-drive electric race car that took part in the legendary Pikes Peak hill-climb race.
The event will also be the launch venue of several products led by the all-new Honda Jazz. PP Superwheels will also launch its latest alloy-wheel collection, while Motul will introduce its Techma diesel engine oil.
ADVERTISEMENT - CONTINUE READING BELOW ↓
Tickets to the 2014 Bangkok International Auto Salon sell for 100 baht each.
ADVERTISEMENT - CONTINUE READING BELOW ↓
Recommended Videos