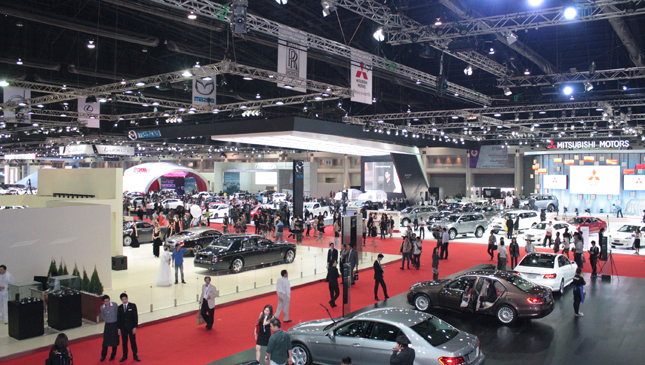 You might already know this, but Thailand is the automotive manufacturing hub of Southeast Asia. In fact, if you're driving a Toyota, Honda, Ford, Mitsubishi or Chevrolet vehicle now, there's a good chance it's made in Thailand. All the big motoring brands have factories in the country.
So when Thailand holds its biggest motor show, you can bet there will be solid model introductions. And that's what will happen on March 25 to April 5, when the Bangkok International Motor Show opens its doors to the public.
The new cars to be showcased during this 36th iteration of Bangkok's premier motor show include the Mazda 2, the Ford Everest, the Ford Ranger facelift, and a new Mitsubishi Delica seven-seater MPV. The Everest, in particular, has generated tremendous interest since it was unveiled in China last year. And let's not forget that Mazda has been resurgent since it broke off from Ford, with its 6 and 3 models getting heaps of accolades.
All in all, more than 30 car brands, nine motorcycle companies, and more than 170 accessory booths will converge on 140,000sqm of display space at the Challenger Halls 1 to 3 of the Impact Muang Thong Thani complex.
According to Dr. Prachin Eamlumnow, president and CEO of event organizer Grand Prix International Public Company Limited: "This year, the show is developed under the concept 'Art of Auto'. The concept reflects the art in the world of automobiles, where such development has no boundary and there is endless creativity for exterior and interior design, body lines, engine performance and suspension system. When we integrate all compositions into one, the outcome is an amazing masterpiece with its own fascination and identity."
Continue reading below ↓
Recommended Videos
There are also special awards to be given to participating car and motorcycle companies. These are:
* Best Design Award
* Best Presentation Award
* Concept Car Award
* Concept Bike Award
Of course, no motor show would be complete without the Miss Presenter Contest, car club activities, and an off-road competition.
If you're in Bangkok during the show's run, this automotive event is worth a look. If you're not in Thailand at that time, wait for our stories. We promise to give you the hottest car news from the floor.
Photo by Patrick Everett Tadeo