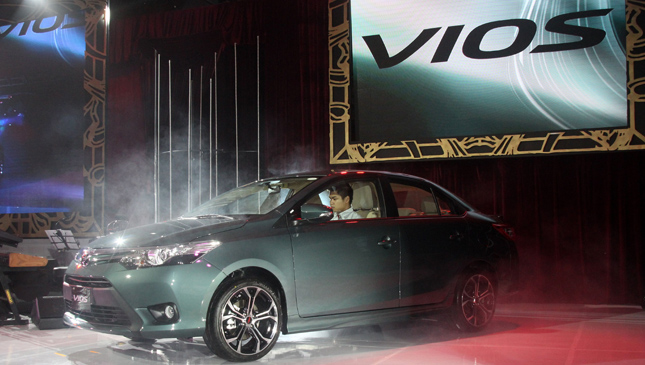 In 2015, Toyota Motor Philippines was basically NBA phenom Stephen Curry. It aims, it shoots, it scores. The Japanese carmaker sold 124,426 units last year, growing 17.8% from its 2014 sales performance. That's almost 341 cars and SUVs a day, or--since we have our calculator out--more than 14 cars per hour!
We were able to get the breakdown of TMP's sales per model, and it was very fascinating. Here's the rundown for 2015:
Yaris - 1,420 units
Wigo AT - 7,726 units
Wigo MT - 5,707 units
Vios 1.5 - 2,419 units
Vios 1.3 - 30,754 units
Prius - 2 units
Prius C - 3 units
Corolla Altis - 4,679 units
86 - 190 units
Camry - 705 units
Avanza - 8,464 units
Innova Diesel - 16,079 units
Innova Gasoline - 932 units
RAV4 - 620 units
Fortuner 4x4 - 620 units
Fortuner 4x2 - 15,148 units
Land Cruiser LC200 - 467 units
Land Cruiser Prado - 399 units
FJ Cruiser - 2,154 units
Hilux - 8,719 units
Hiace - 16,675 units
Alphard - 442 units
Previa - 24 units
Coaster - 78 units
So here are eight reactions we have after seeing these spectacular digits.
1. The Vios reigned again as the number one car model in our country. And like before, the 1.3-liter units sold were overwhelming compared to the 1.5-liter units. By this, you can imagine how big fleet and taxi sales add to TMP's bottom line.
2. The dominance of the Vios versus the Yaris also reflects how much the local market prefers sedans over hatchbacks, since these are essentially the same model.
3. With combined sales of five units, the Prius and Prius C hybrids are still suffering from heavy tax penalties and unenlightened consumers.
ADVERTISEMENT - CONTINUE READING BELOW ↓
4. The diesel-powered Innova still far outsells its gasoline counterpart, and we can thank the very low price of diesel fuel for this.
5. How did the Hiace beat the Fortuner's total sales? We knew Toyota's van was popular--especially in the provinces--but we didn't know it was this sought-after.
6. The FJ Cruiser's numbers are amazing considering it's an old, impractical SUV. We remember being impressed with the FJ's sales of 1,392 units back in 2014. It turns out the market was only getting started. We still badly want one.
7. Holy cow! They sold 442 Alphards! We're talking about a premium van costing the equivalent of a Vios, an Innova and a Hilux (the mid-tier variants). Still, it's the first vehicle most of us would buy if we won the lottery.
8. We wonder how many of those 467 Land Cruiser LC200s are from our taxes parked in Congress.