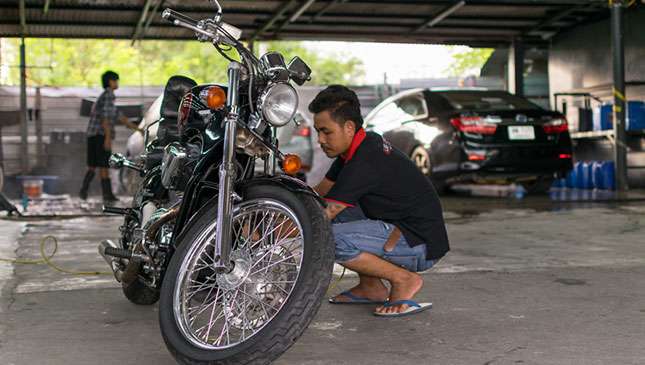 The Motorcycle Development Program Participants Association (MDPPA) has warned riders against making excessive aesthetic and engine modifications to their bikes. According to the manufacturer's association, such mods may have negative effects on a motorcycles performance and safety.
While the MDPPA does acknowledge a rider's desire to personalize his or her motorcycle, it says doing so "comes at a grave price."
ADVERTISEMENT - CONTINUE READING BELOW ↓
"The desire to appear cool and sporty has prompted a lot of motorcycle riders to enhance motorcycles with cosmetic and engine modifications," the MDPPA says in a statement. "Unfortunately, most motorcycle riders are ignorant about the dangers of motorcycle customization and how their 'artistic' pursuits can affect motorcycle safety, performance and durability in the long run."
The association goes on to cite a number of modifications which can have adverse effects on a motorcycle, such as those made to headlights, handlebars, mirrors and mufflers. The MDPPA also calls out replacing the ignition system as a major no-no: "Replacing ignition systems with those without rev-limiters can prove fatal to engine damage as well as safety to the rider and other motorist and pedestrians."
Riders looking to keep their bikes as efficient as possible would do well to avoid making changes to the fuel system, the group says. "Modifying fuel system such as carburetors, which blend air and fuel for combustion, may result in negative effects on fuel consumption, exhaust emission level and reduction of engine power."
ADVERTISEMENT - CONTINUE READING BELOW ↓
Recommended Videos
The MDPPA is also reminding riders that some mods are in violation of the law—specifically, LTO-LTFRB Joint Administrative Order No. 2014-01 which prohibits the modification of motor vehicle parts. It also discourages owners from making mods even if their warranty has already expired.
Frankly, we'd love for excessively noisy exhausts to be phased out of existence. Are there any motorcycle owners here who agree with the MDPPA? Let us know in the comments.