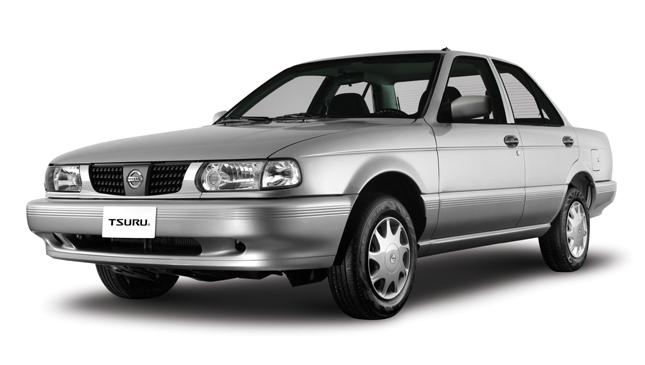 Nissan's B13 Sentra was a popular car in the Philippines back in the 1990s. You literally saw this Japanese compact everywhere. After the base LEC trim was added to the range, it became a popular choice for local taxi operators. Fast forward some two decades later, seeing one in Philippine roads makes us nostalgic. In Mexico though, the feeling might be a little different because the B13 never actually went away.
ADVERTISEMENT - CONTINUE READING BELOW ↓
The Sentra B13 is still being manufactured in Mexico where it is known as the Tsuru. Born during the height of Grunge music, it's surprising that something like this can still be bought brand-new. Only one engine and transmission combination is offered: a 105hp 1.6-liter DOHC gasoline engine mated to a five-speed manual transmission. Starting price in Mexico is a very low 142,600 Mexican Pesos (about P367,000)--Pearl Jam CD not included. In fact, a CD player is not even standard on the base model. Same goes for the A/C.
It's cheap, robust, simple, and fuel-efficient. It's not hard to see why it has become a favorite among taxi drivers, but sadly the car's failure to comply with modern safety standards means its days are numbered.
According to a report by Automotive News, Nissan announced that it would end production of the Mexican-built Tsuru in May 2017. The popular compact had been criticized for its poor crash records since most units sold are not equipped with airbags and ABS. In a crash test conducted by NCAP, the variant without airbags was given a zero star rating.The safety organization also mentioned that between 2007 and 2012 the Tsuru was involved in over 4,000 fatalities.
ADVERTISEMENT - CONTINUE READING BELOW ↓
Recommended Videos
In a report Global NCAP and Inter-American Development Bank published, it stated that applying basic UN vehicle regulations in major Latin American countries could prevent over 440,000 deaths and serious injuries, and up to $143 billion (about P6.94 trillion) could be saved.
The Japanese carmaker plans to increase the production volume of its other models at its two plants in Aguascalientes to fill the void that will be left after Tsuru production ends.
Nissan's aging compact sedan stepped up and became the classic Volkswagen Beetle's successor when new taxi rules spelled the end to the beloved Bug's reign. It makes one wonder which car will be the next taxi icon of Mexico once the last Tsuru units are phased out.